This guide will explain the staff attributes in Football Manager.
Just like player profiles, backroom staff profiles are build-up by 'Attributes'. These are important for determining the quality of a coach, scout or physio. You can view the attributes on each staff member's profile screen. In this basic Football Manager Guide we will explain more about these attributes and we will also have a look at the Tendencies.
Attributes
The attributes that build a staff member's profile are split in to multiple categories and are all rated 1 to 20, with 1 being the lowest and 20 being the highest. Ideally you want your staff members to score as high as possible on their needed attributes.
There are 6 different categories:
Coaching
GK Coaching
Mental
Knowledge
Data Analysis
Medical
Coaching
The coaching attributes are needed for all backroom staff members who are involved in club and player training. Coaches, Assistant Managers and Managers need these attributes to determine the quality of the training.
Attacking
The staff member's ability to coach attacking football. A higher rating does not mean the coach prefers attacking football, merely that he is good at coaching this category.
Defending
The ability of a staff member to coach the defensive side of the game. A higher rating for this attribute does not mean the coach prefers defensive football, merely that he is good at coaching this category.
Fitness
This attribute determines the staff member's ability to improve and maintain a player's fitness level. A higher rating will ensure that the standards of player and squad fitness are developed and maintained.
Mental
This reflects how well a staff member is able to deal with players on a mental level. A high rating will improve a staff member's observation on each individual's state of mind and the ability to react accordingly.
Tactical
How tactically astute the staff member is. A more tactically-astute staff member will not only be able to coach this area of the game, but will also be able to give more accurate and informative advice to the manager.
Technical
This attribute determines the ability of the staff member to teach the technical side of the game. For example a player's Technique or First Touch.
Working with Youngsters
How well a staff member is able to work with younger players, those aged 18 and under in particular. Having a coach who is very good at nurturing young talent can be priceless if just one or two of them develop into first team players in Football Manager.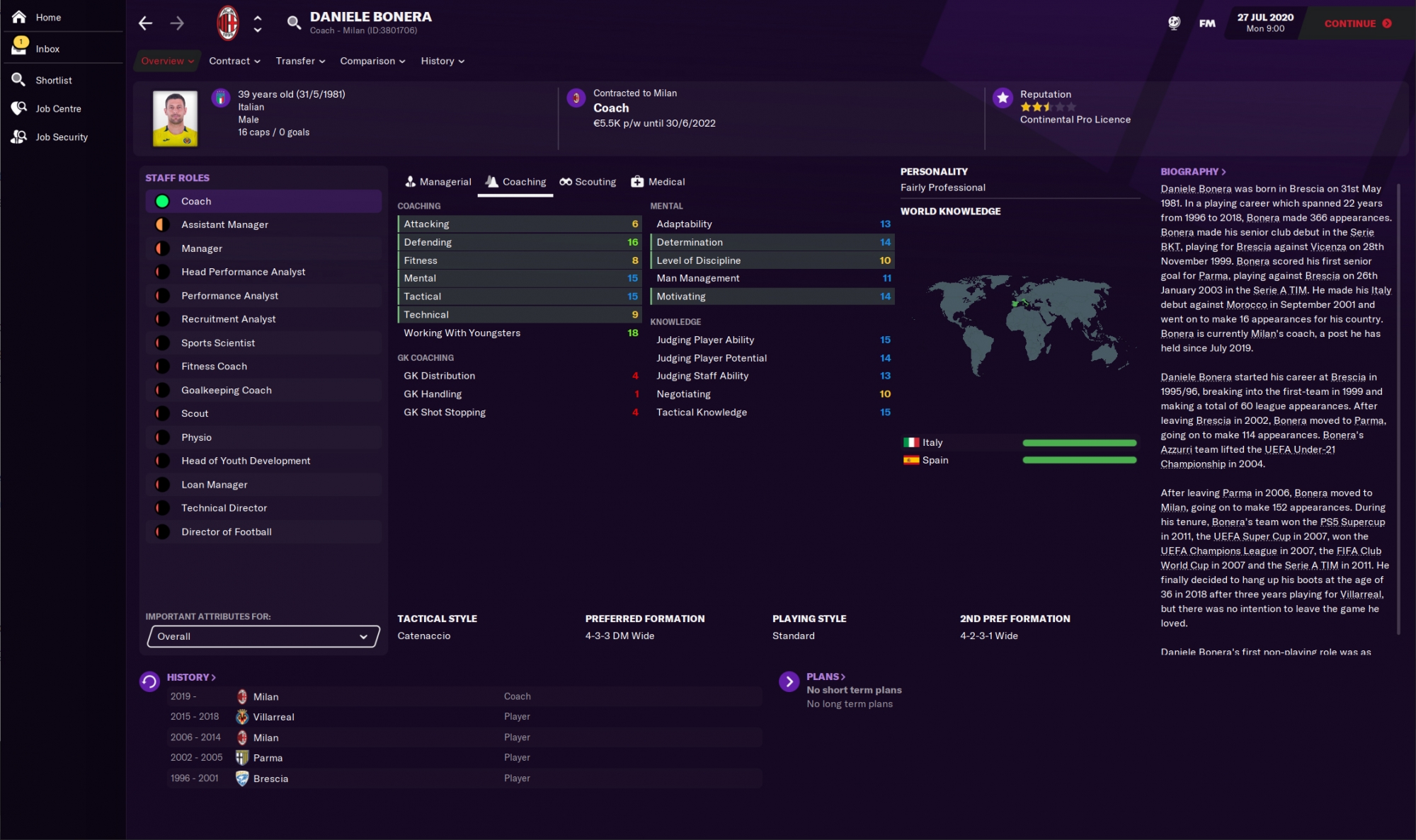 Goalkeeper Coaching
This area has all the key attributes for Goalkeeper coaches.
GK Distribution
This attribute determines how good a coach is at improving a goalkeeper's distribution and not improving his technical abilities for Kicking and Throwing. This attribute deals with identifying the right player to distribute to and the method of getting the ball there.
GK Handling
This attribute is needed for a goalkeeping coach to improve the Goalkeeper's handling attribute, as well as impacting upon their Aerial Reach, Command of Area and Communication.
GK Shot Stopping
This determines the coaches' ability to improve a goalkeeper's attributes in the Shot Stopping department. A better coach will see improvements in attributes like Reflexes and One On Ones.
Mental
All backroom staff members share the same set of mental attributes.
Adaptability
This affects whether a backroom staff member is able to settle down in a foreign environment. The higher the rating, the easier he is able to settle down. This also affects the time it takes for him/her to learn a new language.
Determination
The mental desire of a staff member to succeed in his career. This is not an attribute that helps a coach improve a player's mental approach, but rather the staff member's own innate drive to better themselves.
Level of Discipline
This reflects the amount of discipline the staff member will likely demand in his approach. A higher attribute will mean a coach will be harder on players to keep thing strict, whereas a lower one means they are a little more relaxed.
Man Management
This attribute shows how well the staff member is able to deal with other staff members and particularly the ones that are below him. Higher ratings are needed to keep people happy at the club.
Motivating
The ability of a staff member to motivate a player. A higher rating will allow them to suitably prepare the players for a variety of situations. For example, pushing themselves harder in training but also helping an injured player to work harder during his recovery.
Knowledge
These attributes are mainly needed by scouts who look for new players. However, it is also used by your assistant manager to create the ability and potential stars for your own team and also the coach and team reports.
Judging Player Ability
The ability of a staff member to appraise the current standard of a given player or team. In other words, the current ability of a player.
Judging Player Potential
The ability of a staff member to appraise the potential future levels of performance of a given player or team whilst taking into account several factors that could influence the outcome. For example, a player's age, hidden attributes and a player's personality.
Judging Staff Ability
The ability of a Technical Director to judge which abilities of staff members need improvement and act on that information.
Negotiating
How good the staff member is at negotiating deals. A non-player involved in transfer or contract negotiations will seek better financial deals if they are a more skilled negotiator, while someone less skilled will be somewhat more likely to agree to less favourable packages.
Tactical Knowledge
The tactical knowledge a staff member has. However, this attribute will increase with age as the level is affected by their experience in the game, where they have been and who they have worked with in the past.
Analyses
These attributes are used by Performance and Recruitment Analysts and the Loan Manager in Football Manager.
Analysing Data
The ability of an analyst to understand data concerning an individual player or team and interpret it in a manner useful to the manager.
Medical
These attributes are needed by the Physiotherapists and Sports Scientists in Football Manager.
Physiotherapy
This attribute is needed by Physio's and reflects their ability for their treatment to both prevent and rehabilitate injuries.
Sports Science
The ability of a staff member to accurately manage every player's fitness level and injury risk. This will help the squad to keep their condition to play regular football during a long and busy season.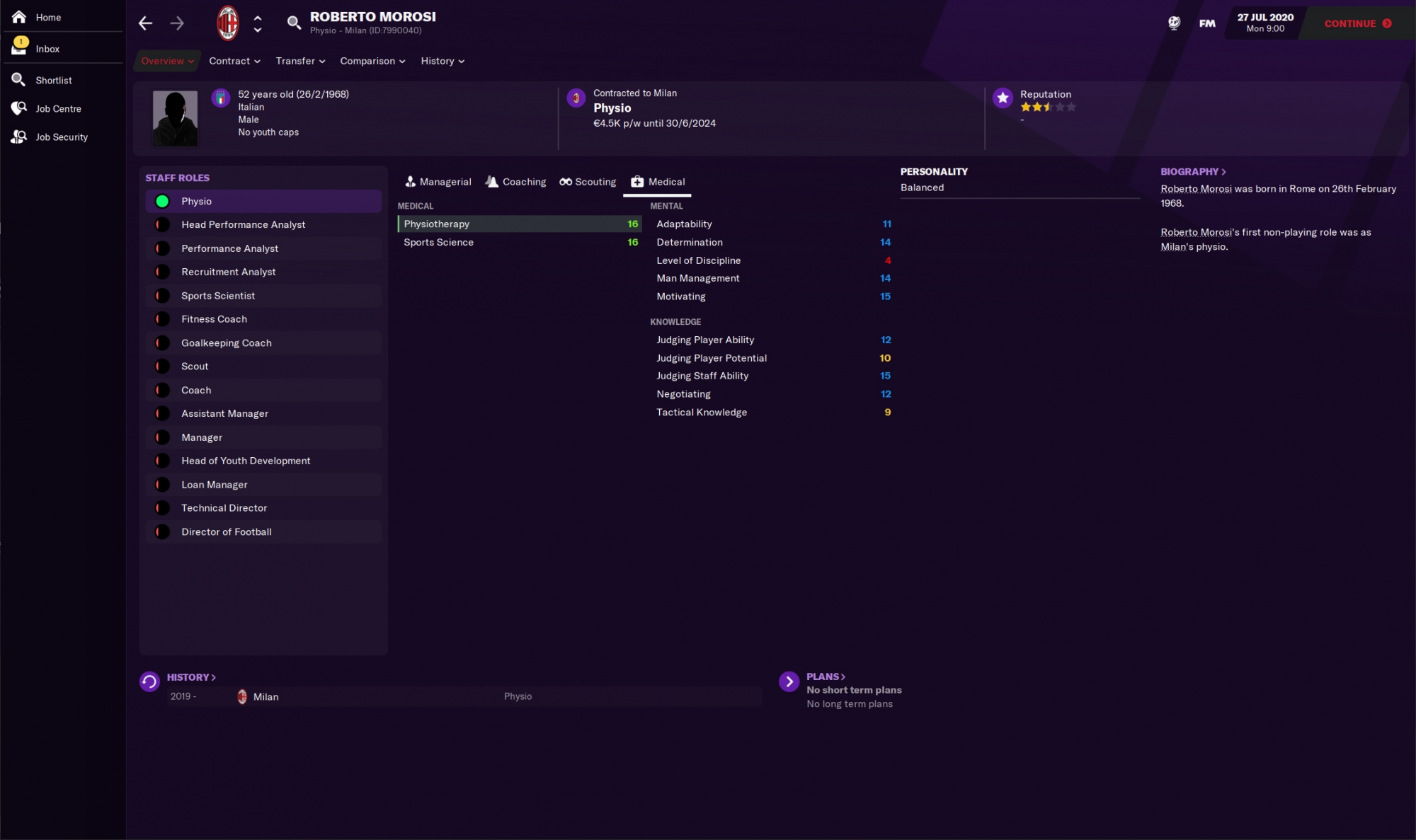 Non-Player Tendencies
Where players have traits, non-players have additional attributes called 'tendencies'. These are also rated 1 to 20 like all the other attributes, but work differently. Attributes impact how well a staff member is at an area, Tendencies determine how likely a staff member will do something. This will basically determine the way a staff member will act or work during his career. It is not clear if these tendencies can develop over the years.
The Tendencies can be divided into two main categories:
Managers, Coaches etc.
Operate without an Assistant Manager
Fit players into preferred tactic
Have a large senior squad
Make early tactical changes
Rely on set pieces
Select domestic players for National Team
Use counter-attacks
Use Target Man
Use young players in low priority cups
Use zonal marking for set pieces
Select a substitute Goalkeeper
Have a willingness to work in the lower leagues
Use non-first team goalkeeper for domestic cup games
Use non-first team goalkeeper for continental cup games
Doesn't use Data Analysts
Person responsible for transfer activity
Sign domestic-based players
Sign lower league players
Sign many youth players
Sign youth players for first team
Spend on youth signings
Use budget on one player
Use loan market
Offer high Promotion wage percentage increases
Offer high Relegation wage percentage decreases
Pay fees upfront
Target high-profile signings
Sign many young players to make profit on them