A guide that explains the basics of Affiliate clubs in Football Manager.
An affiliate club in Football Manager is a good way to expand your horizons without much trouble. An affiliate club could help you increase your revenue across the globe or as a smaller club it could help you loan some quality players for free. In this guide we explain all the options you have in Football Manager.
Affiliate clubs
When you start a new save and take control of a club it is wise to look at the club's affiliate panel. This will help you determine the position of your club. Are you a parent club and therefore the 'big club' or are you the 'Feeder club' and could that mean you lose some of your players?
You can find the Affiliate panel in the Club Info section under the tab Affiliates. Here you can see which type of affiliates you have and what the expectations of these affiliations are.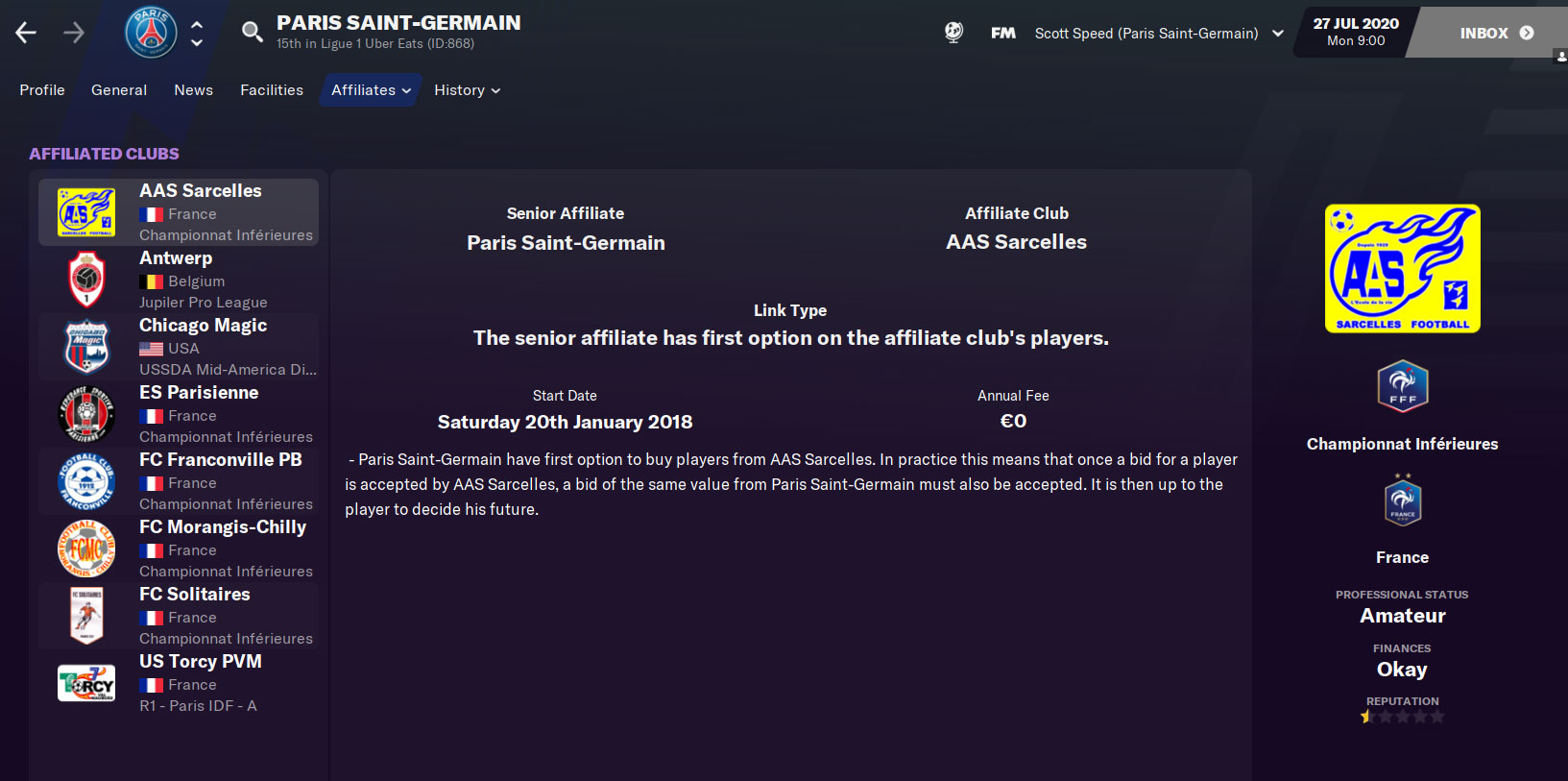 How to get an affiliate club
To get an affiliate club is very easy in Football Manager. To achieve this, you go to the Club Vision area and use the button 'Make Board Request' and in the menu click on Networking. This will give you several options.
Affiliate club
Negotiate Existing Affiliation
Senior Affiliate
Clicking on one of these options will show a pop-up which states that the board will get back to you. This could lead to your board rejecting the question or if they accept your request it will take you to the board interaction screen where you'll receive several options. Once the board grants your request, they will come back to you with a list of potential clubs to choose from.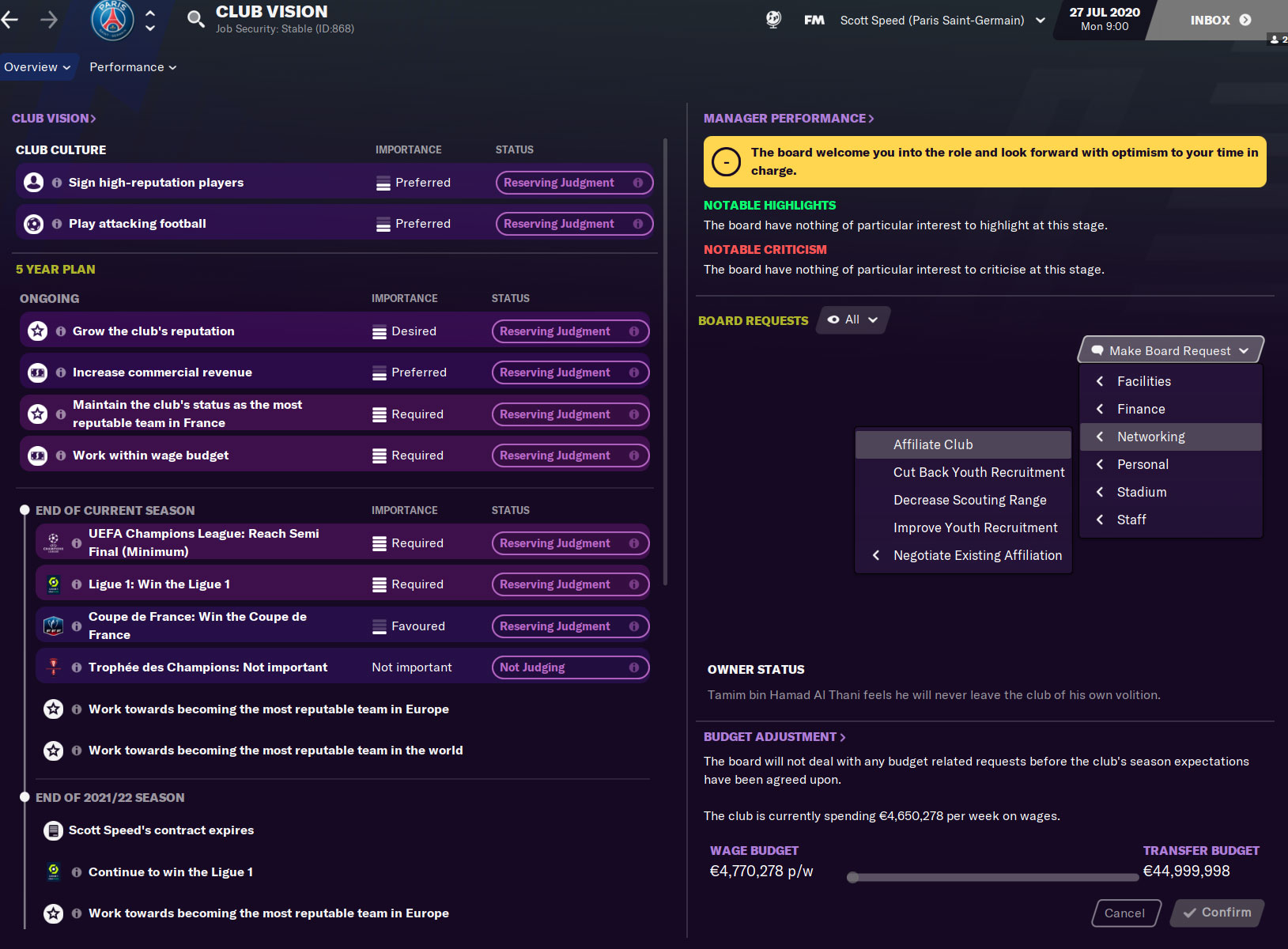 Which type of Affiliations are available?
Before you decide to look for an affiliate it is best to ensure you have a clear goal in mind on what you want to get out of the affiliation. Only then you will be able to maximise the results.
There are several options to choose from. We will look at the affiliation types and explain the benefits for both the parent and the feeder club.
Loan to / from Affiliate
An affiliation could mean you will be able to swap players on loan between the two clubs.
Benefits Parent club
As the parent club you have the option to send players on loan to your feeder club. You decide which players you will send out on loan. This will help player development as your players will play 'real' football instead of playing friendly leagues with your reserves or youth teams.
If could also benefit you if you have players you can't register for the first team. Examples are too many foreign players, too many non-EU players or players who can't receive a work-permit. You can use a foreign affiliate to help players gain citizenship and a passport. This could help them receive a work-permit in the future.
Benefits Feeder club
It will benefit the feeder club on multiple levels. The first one is that you will be able to sign loan players for free. Also, players could be persuaded to join a feeder club even if their abilities are too high for the league. These players could mean the difference between winning the league or a dull season.
First option to buy
This is a partnership where the parent club will have the first option to buy a player from your feeder club if a bid is made by another club.
Benefits Parent club
You will receive a message in your inbox when a bid is made for a player. You will then have the option to talk to a player. However, the player will still be able to join the other club. This affiliation will allow you to keep talented players at the feeder club for them to develop and only try to sign them when another club also wants to sign him.
Benefits Feeder club
The only benefit to the feeder club is that the chances of a player moving to the parent club are higher. This way you could also re-sign the player on loan. You could include this in negotiations with the parent club.
Recruiting foreign youngsters
An affiliation in which you increase the chances of bringing in players from that country through your youth intake.
Benefits Parent club
Great way to expand your horizon and makes it possible to add players from other countries to your youth intake. TIP: These types of affiliations work well with countries such as Brazil, Argentina and the United States. These countries tend to produce the best newgens in the game.
Benefits Feeder club
This affiliation could work both ways. Meaning the feeder club could see some players in their youth intake with the nationality of the parent club.
Annual Friendly
With this type of affiliation, the parent club will be obligated to play a yearly friendly match against the feeder club.
Benefits Parent club
It's an extra friendly match during pre-season and it could grant you some extra merchandising income. You aren't obligated to field your strongest team.
Benefits Feeder club
A friendly against a big parent club could make or break your financial year. The entire matchday income is for the feeder club. A big team coming to your stadium usually sells out the stadium and could even see a potential rise in merchandising.
Annual Fee
The parent club will pay an annual fee to the feeder club.
Benefits Parent club
Not many benefits to this, other than you will help the feeder club improve their finances (if the fee is big enough). There are some downsides to this type of affiliation as the total amount of these fees could easily cost you millions. It is good to evaluate the benefits of the affiliation every year. If it is not beneficial you can always renegotiate the terms of the affiliation or even cancel the link entirely.
Benefits Feeder club
For a smaller team this could be a huge boost to their finances. Sometimes the fee you receive is bigger than your yearly expenses. This could help you sign better players and get up the football ladder quicker.
Share training complex
In this type of affiliation, the feeder club will be able to use the training facilities of the parent club.
Benefits Parent club
Only benefit is that if you send players on loan to your feeder club you will know for sure they will have good facilities to train.
Benefits Feeder club
As a smaller club you will be able to use good training facilities. This will benefit the development of your players and will help you avoid injuries as bad facilities will increase the chances of players picking up injuries.
Training youth players
With this type of affiliation, the parent club will allow youth teams of the feeder club to train with their own youth teams.
Benefits Parent club
The level of the yearly youth intake at your feeder club will be increase, increasing the possibility of a potentially good player. This type of affiliation works well if you combine it with 'First option to buy'.
Benefits Feeder club
Players of your youth team will train with better players and at better facilities. This will help their development overall.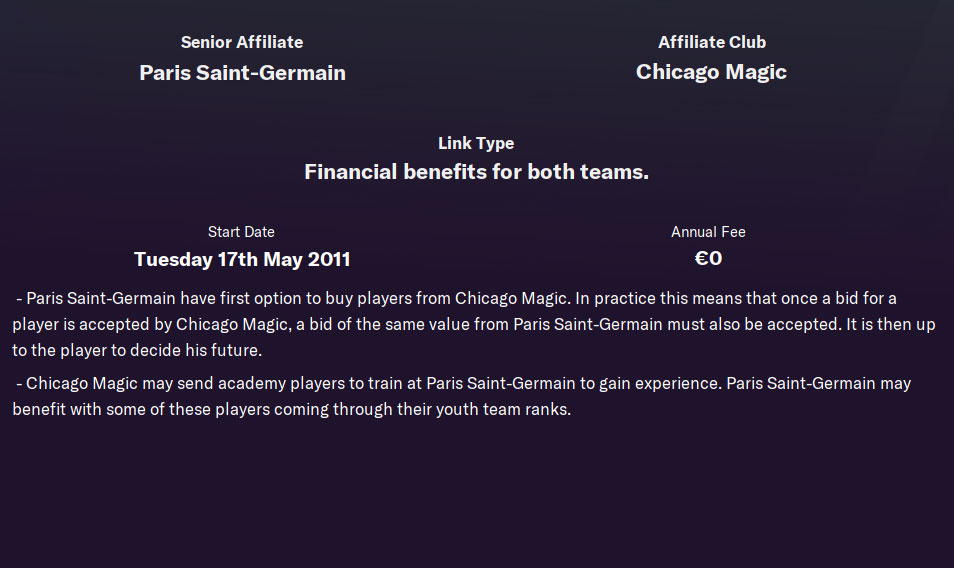 Sharing scouting knowledge
An affiliation where scouting knowledge is shared between the clubs.
Benefits Parent club
This affiliation could do wonders for your scouting network as it could help you gather knowledge of an entire continent.
Benefits Feeder club
Not so many benefits for the feeder club, especially if your club doesn't have the finances to scout outside your own country.
Merchandising
This increases the reach of your club and you can increase your brand awareness in other parts of the world.
Benefits Parent club
Works best when you have an affiliation with clubs from different continents. You will then be able to make annual trips to the country to play friendly matches. In addition, it will be even better if you have a high reputation player from another continent in your team. This will increase your merchandising revenue.
Benefits Feeder club
Not so many benefits for the feeder club aside from the parent club visiting you for a friendly every year. This affiliation is often used in combination with the annual friendly affiliation.