An in-depth look at the Performance Analyst backroom staff role in Football Manager.
Data analysis has become an integral part of the football world and over the past few years it has been given an important role in Football Manager. This has resulted in the introduction of the Performance Analyst role.
What is a Performance Analyst?
As the name implies, the Performance Analyst is someone who can analyse performance. On behalf of the manager, he can make analyses of the matches you play during the season. You can then use these analyses to improve your tactics or make training choices.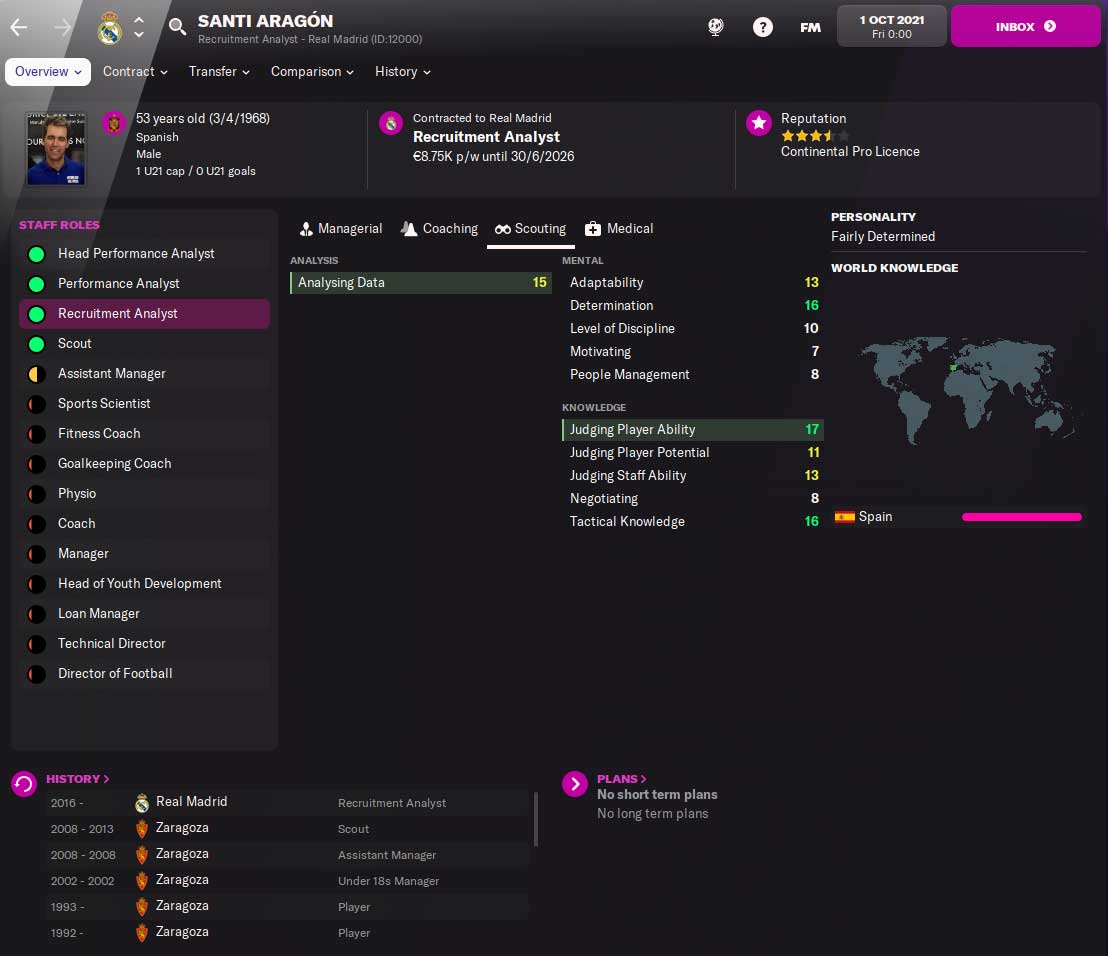 Difference between Performance and Recruitment Analyst
The former Data Analyst role has been split into two different roles. One of them being the Performance Analyst and the other is the Recruitment Analyst. While the first one mainly focuses on your first team and their performances, the recruitment analyst is part of the scouting team and will provide data reports on potential signings.
Read more on the Recruitment Analyst.
What are the tasks of the Performance Analyst?
The Performance Analyst is part of your coaching team, but is not someone who can be found on the field. He will not work 1 on 1 with your players, he is mainly there to help the manager make choices and improve performances where possible.
His main task is therefore to analyse matches and to present them to you in a good way. He will - on request - give you a visual presentation of the data he collects for you during the season. These reports appear in your inbox or can be found in the Data Hub.
Responsibilities
There are two responsibilities you can delegate to a Performance Analyst. Those are:
Providing Own Team Analysis Reports

Providing Opposition Analysis Reports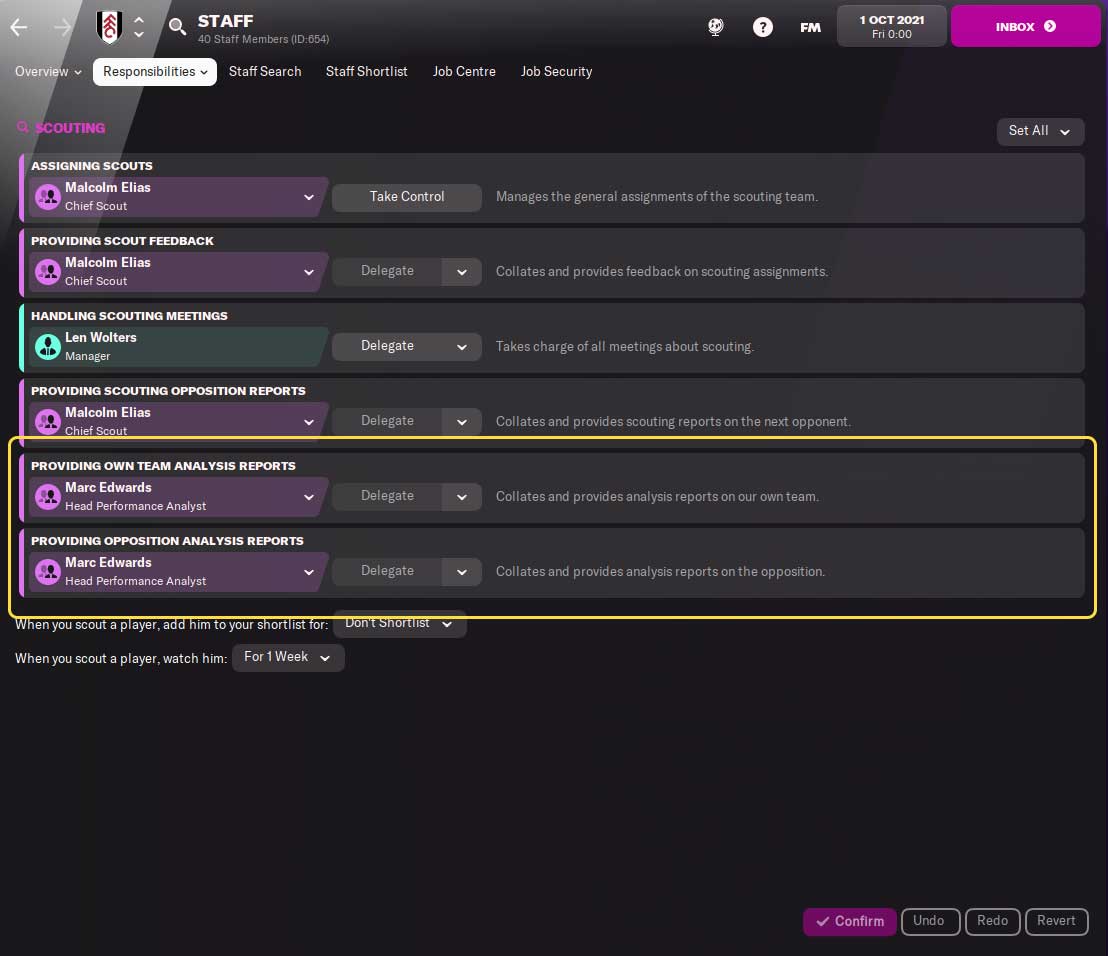 Key Attributes for a Performance Analyst
The Performance Analyst's attributes are located in the scouting section of a staff member's profile. There are two four attributes highlighted by Football Manager:
Analysing Data

Determination

Judging Player Ability

Tactical Knowledge
Analysing Data
The ability of an Analyst to understand data concerning an individual player or team and interpret it in a manner useful to the manager.
Determination
The mental desire of the analyst to succeed. This isn't to mentally coach a player but rather the staff member's own innate drive to better themselves.
Judging Player Ability
The ability of a staff member to appraise the current standard of a given player or team
Tactical Knowledge
The tactical knowledge a staff member has.This attribute will increase with age as the level is affected by their experience in the game, where they have been and who they have worked with in the past.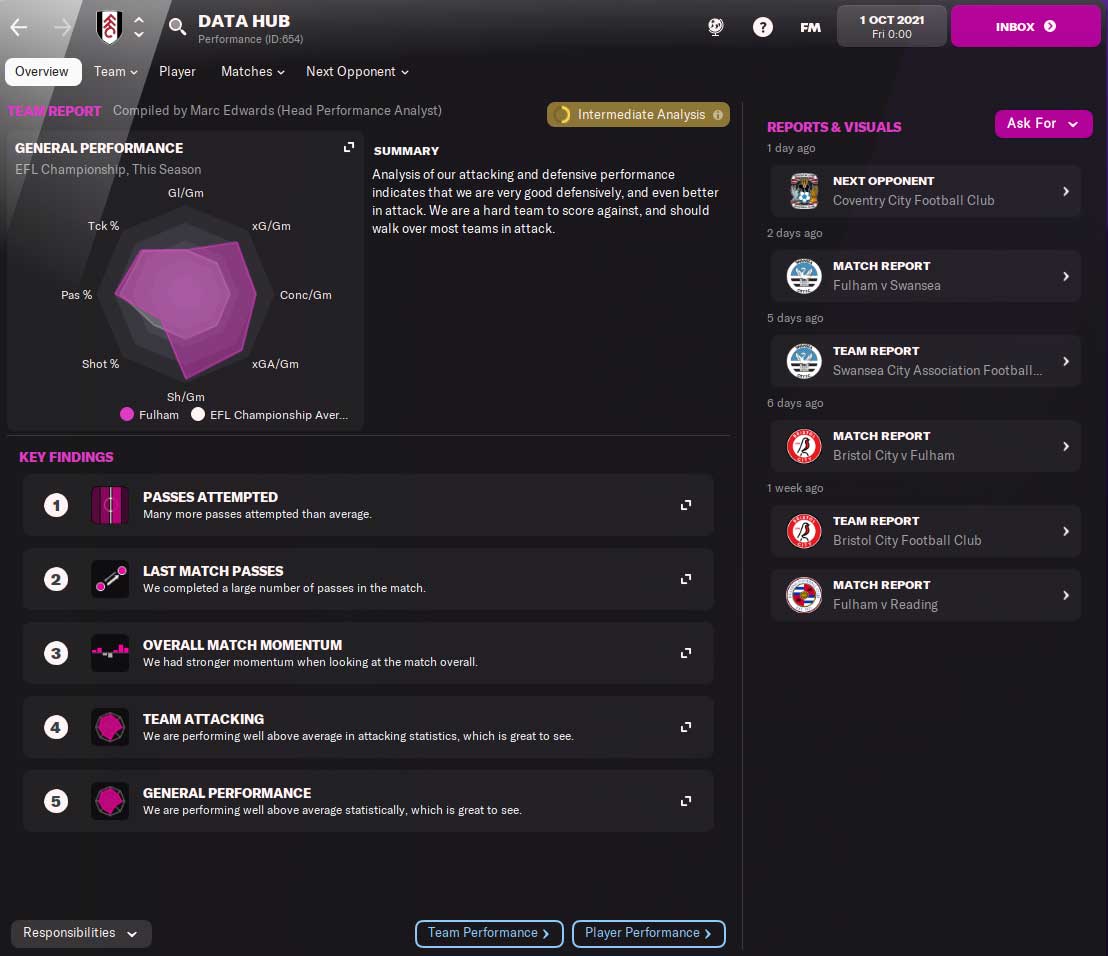 Should I hire a Performance Analyst?
Yes, you should. Although many things in Football Manager are often a matter of simple thinking, you also have to deal with things that you simply do not see or do not notice. The Performance Analyst can help you to visualise these things.
The feedback you receive from him will help you discover your team's strengths and weaknesses. That way you will be able to make better choices beforehand, but it will also be easier to intervene if things go wrong during a match. Instead of guessing why you keep conceding a goal, in many cases you will now be able to find a clear reason and actually do something about it.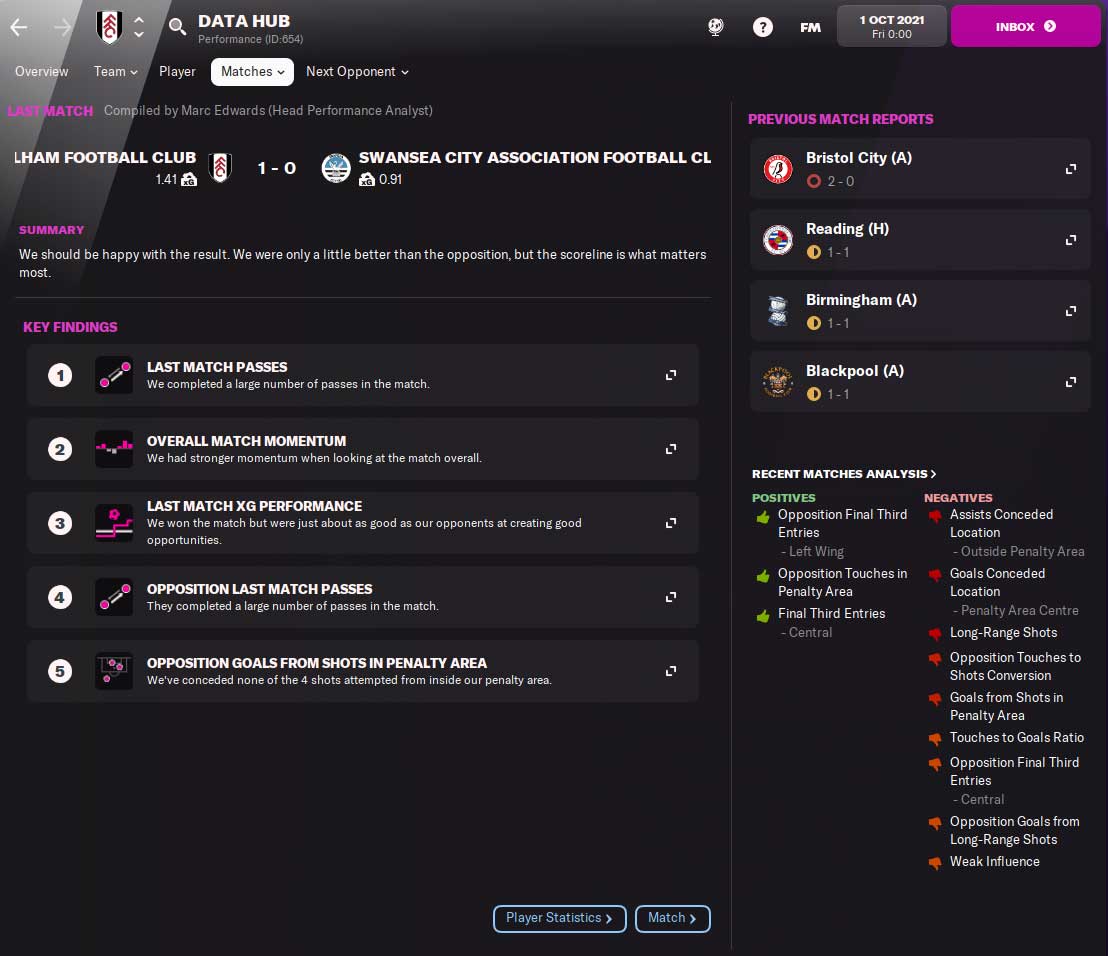 How many Performance Analysts do I need?
As far as we're concerned, the basic rule is to always appoint one, no matter what level you play at. Ideally you are thinking of a team of about four or five people. Once you have a full team of analysts it is a good idea to appoint one as the Head Performance Analyst. He will lead the team and provide all the needed reports.
If you manage a club at one of the highest levels in the game you will probably already have a couple or a full team of analysts. You generally don't need to change that much, other than perhaps looking for better analysts.
At a lower level club you won't often see a Performance Analyst. At those levels you will have to deal with limited budgets and limited backroom staff positions. In that case it is advisable to visit the board room and submit the request for appointing one.