An in-depth guide for the Physio backroom staff role in Football Manager.
Physios hold a key position in your club's backroom staff when it comes to player fitness levels. These guys will not only be responsible for the treatment of injured players, but they also play an important part in reducing the likelihood of player injuries occurring and will help you avoid injuries.
Another one of his tasks is giving you an estimate of the time a player could be out with an injury. A better physio will give you a better estimate, where a poorer physio will have difficulties to give you a clear estimate. For example a player suffers a knee injury. A good physio will estimate a recovery time of 4 weeks. A poor physio will give you an estimate of 3 to 6 weeks.
Difference between Physio and Sports Scientist
Both the Physio and Sports Scientist work at the medical department of your club. There is, however, one main difference between the two roles. Where the Physio's main task is to help players recover from their injuries, the Sports Scientist will try to prevent players from getting injured.
Medical Centre
The main area where you will be in contact with your medical team will be in the Medical Centre. Here you will be able to keep a close look at the fitness levels of your squad. This area was introduced in Football Manager 2018 and has been further developed since then.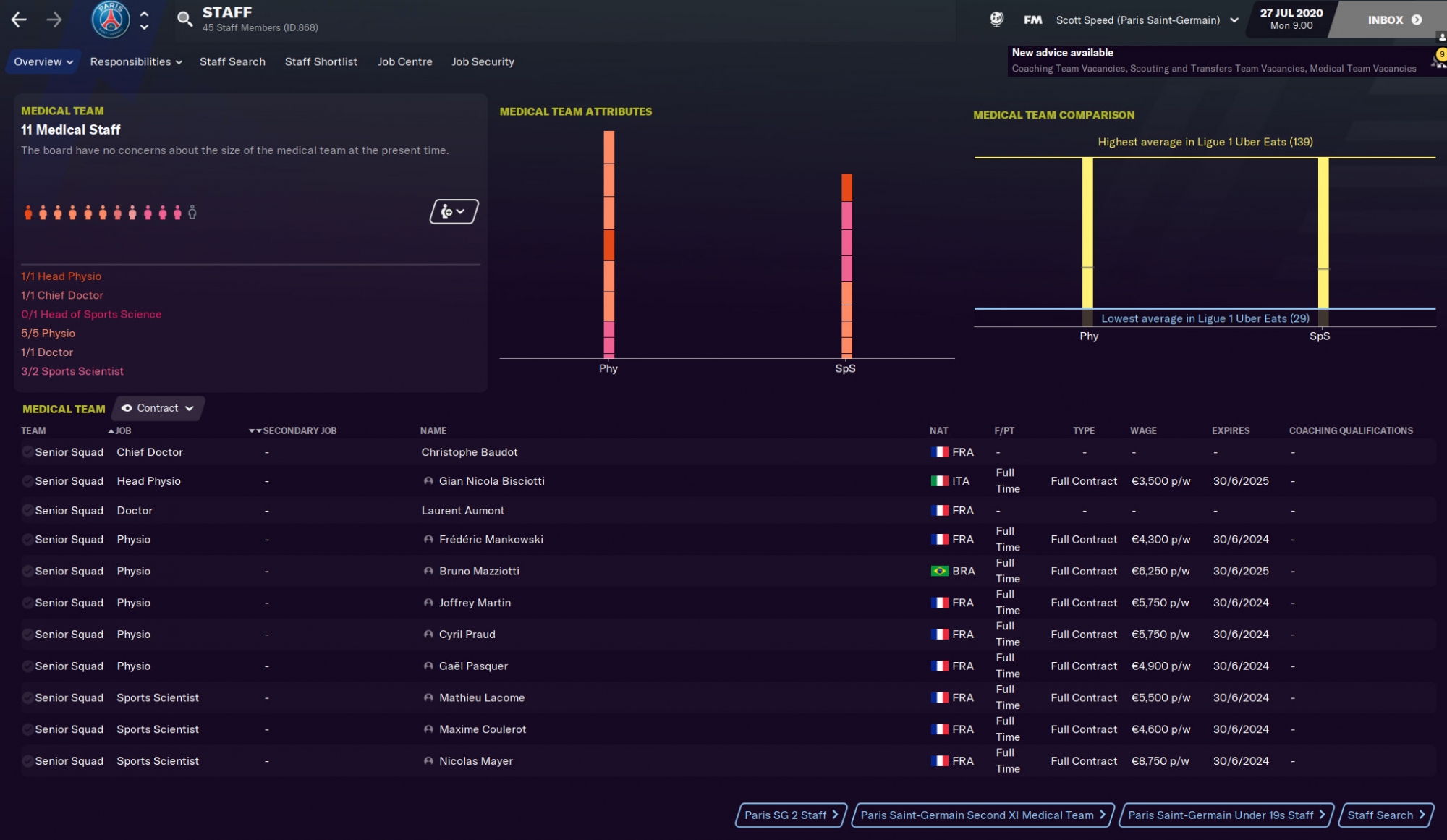 Key Attribute for a Physio
Football Manager itself only shows one key attribute for the Physio, but there are some other attributes to look for as well. We will discuss them all.
Physiotherapy
The most obvious attribute of them all. This attribute is needed by Physio's and reflects their ability for their treatment to both prevent and rehabilitate injuries. Rated 1 to 20, with 1 being the lowest and 20 being the highest. Look to sign Physio's with the highest possible ratings.
Important Attributes
While the attributes in this section are not highlighted as key attributes for a Physio, we and many others in the community believe these will help determine the overall level of a Physio.
Fitness
Not essential, but at some point the official Football Manager manual pointed out towards this attribute as a pro for Physios. It could be useful as this attribute determines the ability of a coach to maintain and improve a player's fitness level. When a player is recovering from an injury, he will be working on his fitness level.
Determination
Not directly related to the work of a Physio, but more an attribute that will help a Physio improve himself during his career. A Physio has a current and potential ability and is able to improve attributes as the years progress. A high rating for determination will drive the Physio to keep improving himself.
Level of Discipline
This reflects the amount of discipline a Physio will be demanding in his approach. A high rating will mean a Physio will be harder on players while recovering, a Physio with a lower rating will have a more 'relaxed' approach. It depends on the personality of the player whether a strict or more relaxed approach will improve results.
Motivation
The ability of a Physio to motivate a player while recovering from an injury. A higher rating will help the Physio push a player to work harder during his recovery. This could shorten the player's recovery time.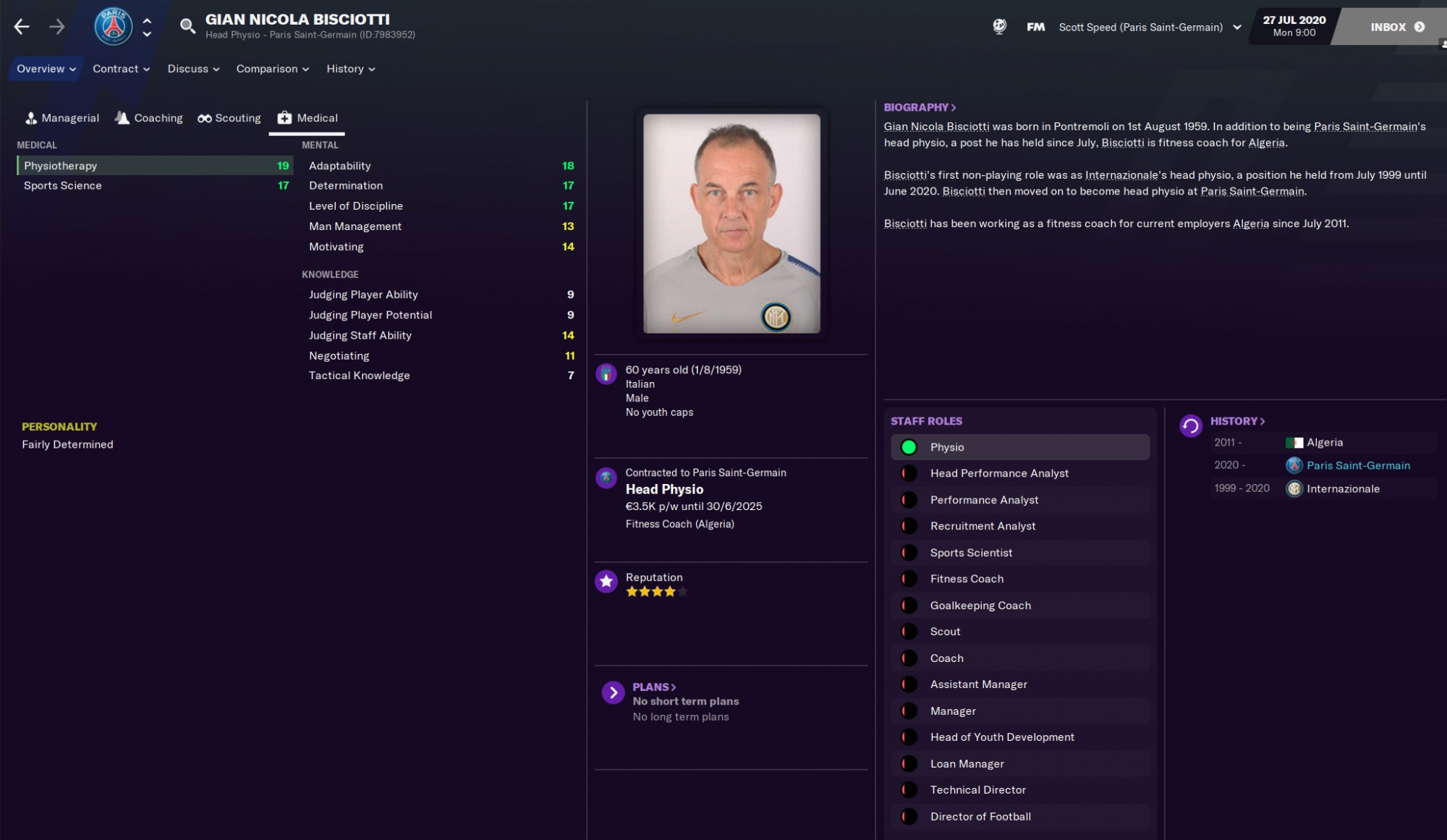 Additional Attributes
Last but not least there are two attributes that can help a Physio in several situations. While these will not determine the overall quality of a Physio, they could be important for different reasons.
Adaptability
Important if a Physio is working abroad. This attribute will determine how well a Physio is able to settle down in a foreign environment. A higher rating will help a Physio settle down more easily. This also affects the time it takes for him/her to learn a new language.
Man Management
This attribute shows how well the Physio is able to deal with other staff members and particularly the ones that are below him. Higher ratings are needed to keep people happy at the club. A high rating for this attribute is needed if you want to sign a Physio as a Head Physio.
Working with Youngsters
As with coaches, this attribute will help a Physio work more effectively with younger players. It could be useful for youth Physios and Physios that work with the reserves. Also, if your first team has a low average age, it will help the Physio work more effectively with the squad.
How many Physios should you sign?
In the ideal situation you should always max out the maximum allowed physios at your club. However, the ideal situation only applies to big clubs in big leagues with almost unlimited budgets. There are some things to consider when signing Physios (or any other member of the backroom staff).
One: the level you play on. It is nice and all that you are allowed to sign 5 physios in the English 6th division, but do you really need that many? You probably have a max of 23 players and will play an average of 1 game per week. In that case you don't really need 5 physios and one or two will be more than able to cover your injuries.
Two: the number of players and their attributes. Go through your squads and make a note of the total number of players you have at your club. If you are managing a low level side and you don't have a youth squad or reserve team, one or two Physios would be sufficient. Also, take a closer look at the attributes of your players. Check the Natural Fitness and Stamina attributes. If they are fairly low (average of 10-12) you should try to hire some extra physios. Lower ratings for these attributes could mean players will pick-up injuries
Three: Your budget. Physios tend to have high salaries in Football Manager, or at least higher than the average coach. That could cost you a lot of money each month. Our advice: don't sign too many physios at once, but only sign one or two. That way you can check how these affect your budget.
The main tip which goes for all three above: Don't go crazy and sign 10 physios on the first day you enter a new club. Instead: play a season in Football Manager and see how you, your squad and your budget progress. Learn how your squad reacts to a busier schedule and learn about your players physical capabilities before you act.