An in-depth guide to the Loan Manager backroom staff role in Football Manager.
The Loan Manager was introduced as part of the backroom staff in Football Manager 2020 and has been added to the game to ease the life of you as a manager during a busy football season. He can provide advice and will take on several tasks you would normally do on your own.
What are the tasks of a Loan Manager?
The Loan Manager is part of the Development & Recruitment Team and his main role will be to assist you to manage the players you either want to send out on loan or have already sent out on loan. There are several responsibilities you can delegate to the Loan Manager, including the acceptance or rejection of loan offers, but also the responsibility to find suitable clubs for players who are on the Loan List.
The Loan Manager could really be beneficial for you as a manager if you have a very large squad and you want to send most of your young players out on loan. Take Chelsea for example. The Blues are well-known for their massive activity on the loan market as they send out at least 30 players on loan each season.
In Football Manager this is also possible, but most of the work would be manual work for you as the manager. Also, the tracking of players out on loan wasn't something that was implemented very well into the game and that is one of the major reasons the Loan Manager was introduced as a full backroom staff role.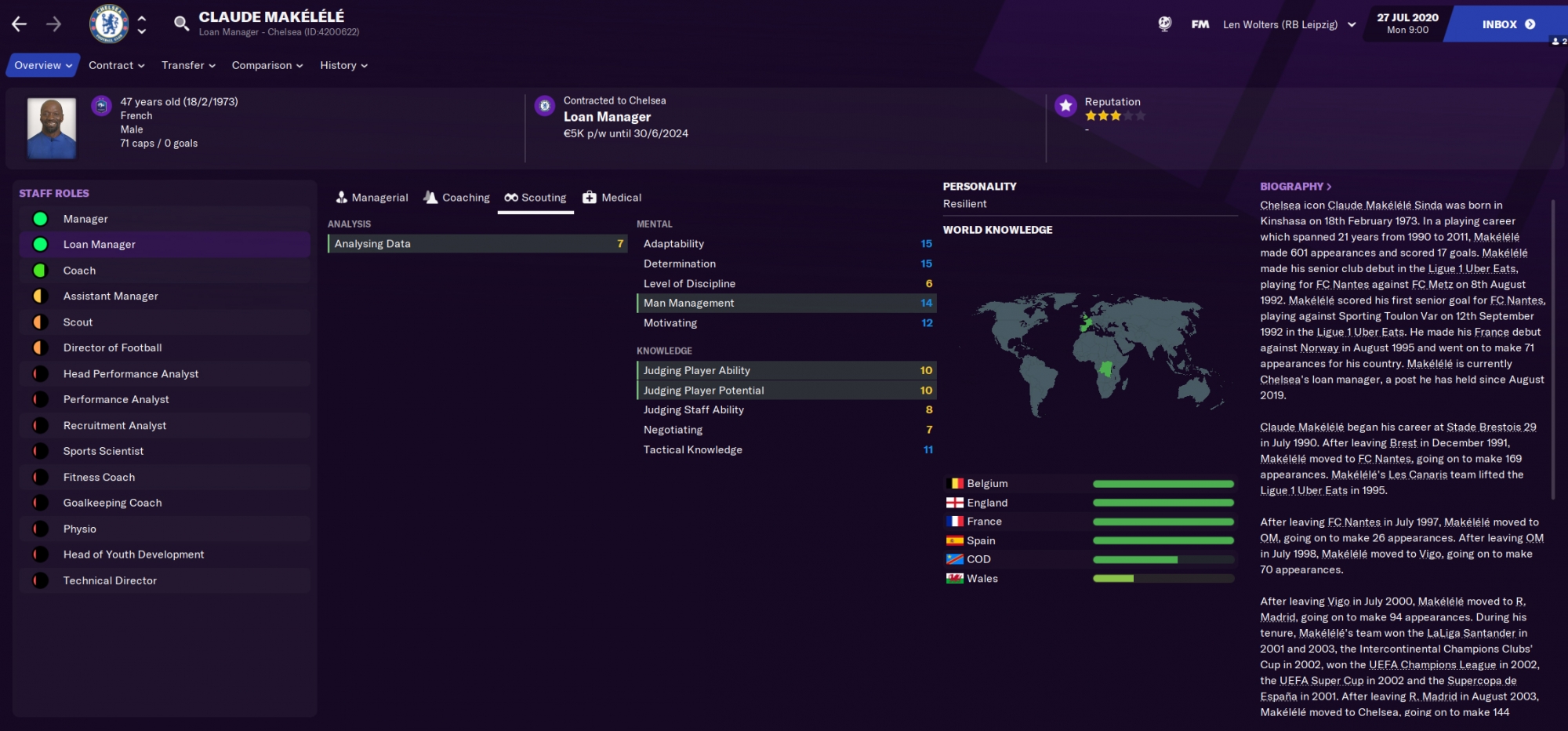 Key Attributes for a Loan Manager
The Loan Manager's attributes are located in the scouting section of a staff member's profile. There are four key attributes highlighted by Football Manager:
Analysing Data
Man Management
Judging Player Ability
Judging Player Potential
Analysing Data
The ability of an Analyst to understand data concerning an individual player or team and interpret it in a manner useful to the manager
Man Management
How well the member of staff is able to deal with those around them and particularly below them. Higher ratings reflect someone who is capable of impressive organisation and keeping people happy.
Judging Player Ability
The ability of a staff member to appraise the current standard of a given player or team.
Judging Player Potential
The ability of a staff member to appraise the potential future levels of performance of a given player or team whilst taking into account several factors that could influence the outcome.
Development Centre
You can find all the information you need about loaned players in the Development Centre. You will find the Loans tab there and on this tab you get a complete overview of all players who are currently away on loan.
In addition, suggestions will be given about which players could be sent on loan. There can be several reasons for this, but the most common reason is player development.
Players on Loan
The complete list of players currently on loan. You can click on a player's row to highlight it. You will then receive extra information about that player on the right side in the following areas:
Loan contract
Loan terms
Player morale
Current form
Loan Report
You also have the option to request a Loan Report from your Loan Manager (or the person responsible for it). In this report you get about the same information as in the overview, only you see a little more details (such as Loan Clauses and optional Future fees) and you have the possibility to view Match Reports of that player (to see Match reports you have to activate the league(s) your loanees play in).
The report is a good way to track the performances and development of your players.
Weekly Loan Round Up
As part of his job the Loan Manager will send you updates on the players out on loan through a weekly loan round up. This will be sent to your inbox and will cover all the players that have seen action that week. You receive a small summary of the player's most recent performance and you also have the option to access the individual loan reports
Conclusion
Just like the Technical Director or Director of Football, the Loan Manager isn't a vital job in Football Manager. However. he will be able to make your life as a manager easier if you are considering to use loans for player development or simply making some money through loan fees. Take Chelsea for example, they have 32 players out on loan during the first season and have another 10 to 15 players that could be sent on loan as well. If you want to use loans to improve player development for a lot of players it is a very useful role.