A closer look at the Shadow Striker player role in Football Manager
What is a Shadow Striker?
Football Manager states: The Shadow Striker operates as one of the team's main goalscoring threats. Usually coupled with another forward in support, the Shadow Striker aggressively pushed up into goalscoring positions as the ball moves into the final third and looks to close down opposing defenders when out of possession.
The Shadow Striker is only available on an Attack duty.
An AMC playing as a Striker..
A Shadow Striker plays on the position of an attacking midfielder, but mainly plays as a striker instead of a playmaker. His main goal is to score goals instead of dictating the play from the midfield. When your team has the ball the Shadow Striker will move further forward and will look to make his runs into space, which could then also create more space for his fellow striker up front.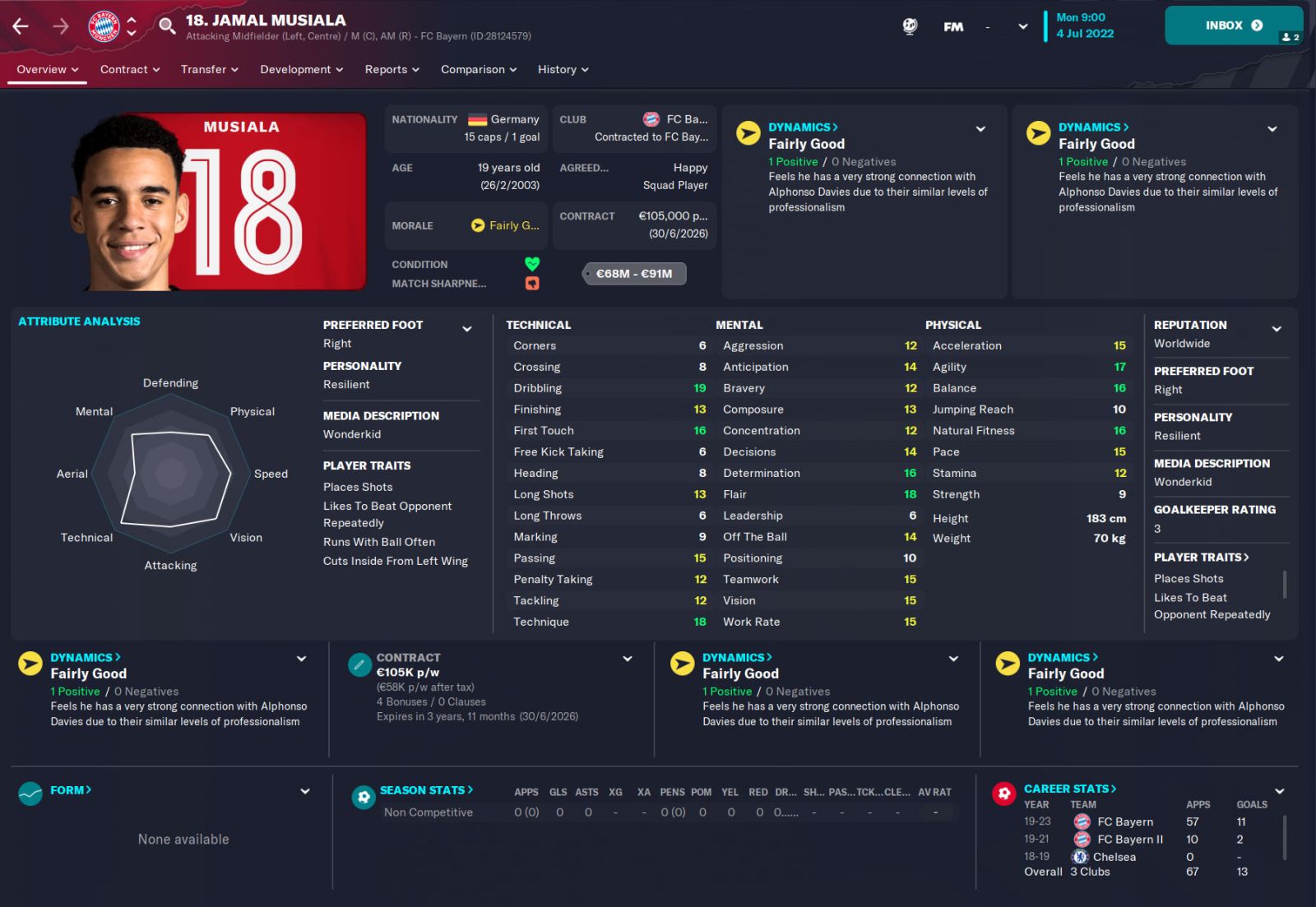 When do I pick a Shadow Striker?
The Shadow Striker is a good choice when you want to create a more attacking style of play, and when you need a player who can link up with your striker and contribute to the attack. This position is also effective when you want to exploit space between the opposition's midfield and defense.
Usually a Shadow Striker will play alongside a partner striker up front, but there are also many good examples of strikerless formations that use this player role effectively.
Which attributes does a Shadow Striker need?
To be successful in the Shadow Striker role, a player needs to have good dribbling, technique, and finishing abilities. They should also have good pace and acceleration to make runs into space, as well as high work rate and determination to press and win the ball back.
Attack Duty
| Key | Desirable |
| --- | --- |
| Dribbling | Passing |
| Finishing | Technique |
| First Touch | Concentration |
| Anticipation | Decisions |
| Composure | Work Rate |
| Off the Ball | Agility |
| Acceleration | Balance |
|   | Pace |
|   | Stamina |
What are the best player traits for a Shadow Striker?
Player traits are actions a player will more likely perform during a match than others.They don't give him extra abilities, but will affect his decision making. A player trait can be learned through individual training or through mentoring.
These player traits will help your Shadow Striker get into goal-scoring positions and create chances for themselves and their teammates.
Likes to beat the offside trap
Plays one-twos
Tries killer balls often
Good player roles to pair with a Shadow Striker
A good player role to use alongside the Shadow Striker is the Advanced Forward, as they will make runs in behind the opposition defense and create space for the Shadow Striker to operate in. A False Nine is another good option, as they will drop deep and create space for the Shadow Striker to make runs into.
Shadow Strikers in FM23
A selection of good or interesting Shadow Strikers in FM23 based on their current ability and Key attributes for this player role.
RAT
name
age
sell value
POT
To Conclude
In conclusion, the Shadow Striker is a dynamic and effective attacking position in Football Manager 2023. By choosing the right player and setting up your team correctly, you can create a potent attacking threat that will help you win matches and achieve your goals.