This guide will explain more about the role of Head of Youth in Football Manager.
The Head of Youth development is one of the most vital members of your backroom staff as he is the one who is responsible to make youth signings for your club.
In this Guide we will have a closer look at the Backroom staff role Head of Youth Development. We will try to explain more about his role at the club, which abilities he needs and why is has such an essential role in finding the best youth players.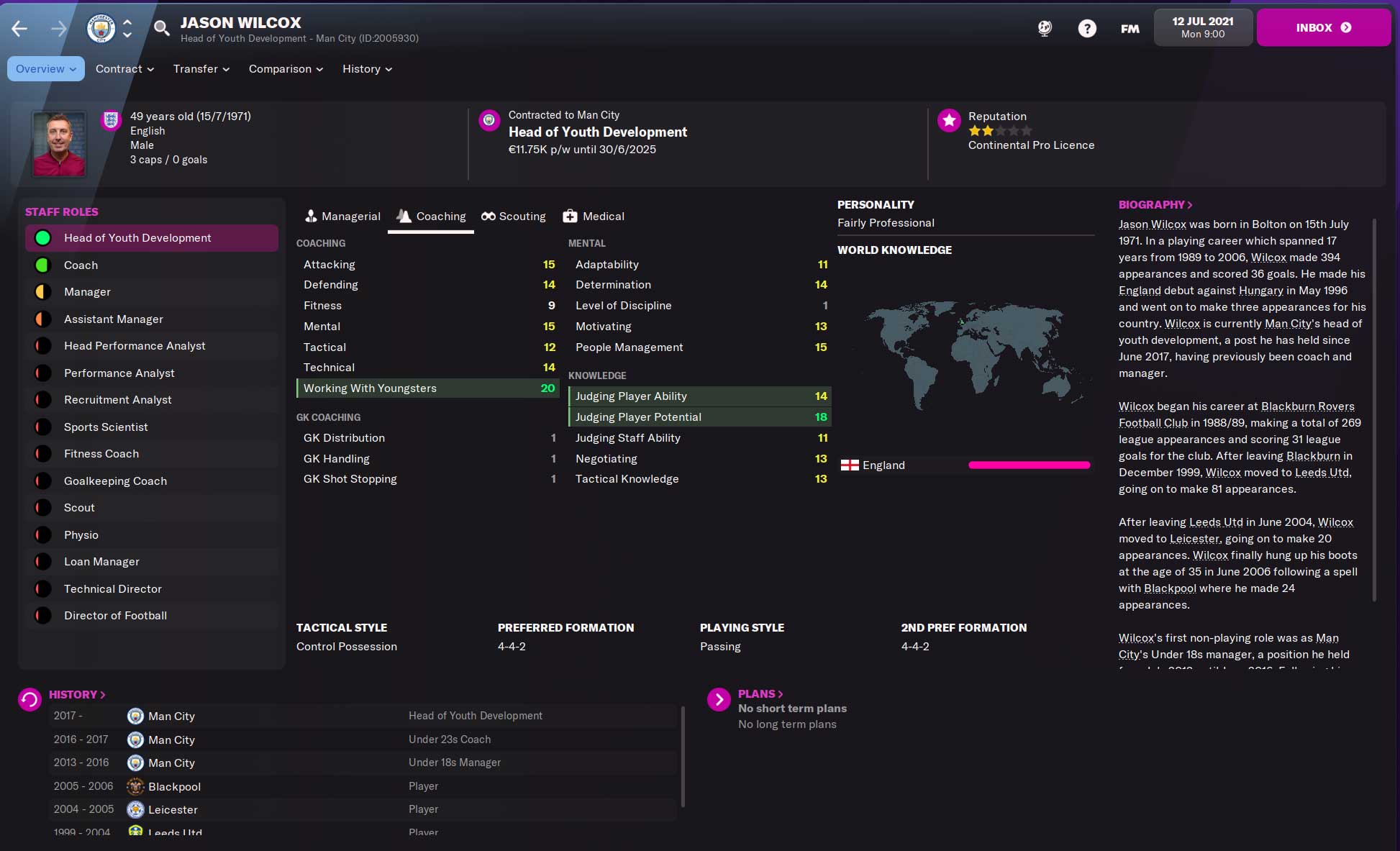 Key attributes for a Head of Youth development
According to Football Manager a Head of Youth development has three key attributes for his role. These are:
Judging player ability - He will need to be able to see how good a youth player actually is.
Judging player potential - He will need to be able to see how good a youth player can be
Working with youngsters - Makes sense right...
Development Centre
The main area you will be finding the Head of Youth in will be the Development Centre. Here he is in the lead and he will feed you with information on the players outside your first team.
On the overview page you will receive all kinds of information, including reports on your loan players, the strength of your youth teams, if there are any unhappy players and he will mark out the 'ones to watch'.
Further down inside the Development Centre you have all kinds of information on your youth teams with screens for the squad, dynamics, training, match reports and their upcoming fixtures.
Youth Candidates
The most interesting section inside the Development Area is the Youth Candidates tab. Each year the Head of Youth will provide a list with new players who have developed through your youth teams below the u18's and are ready to make the jump into your highest youth team.
Here you will see a full list of candidates, including the current and potential ability ratings of the players. Depending on the responsibilities it wil be either you or the Head of Youth who will be deciding who to sign.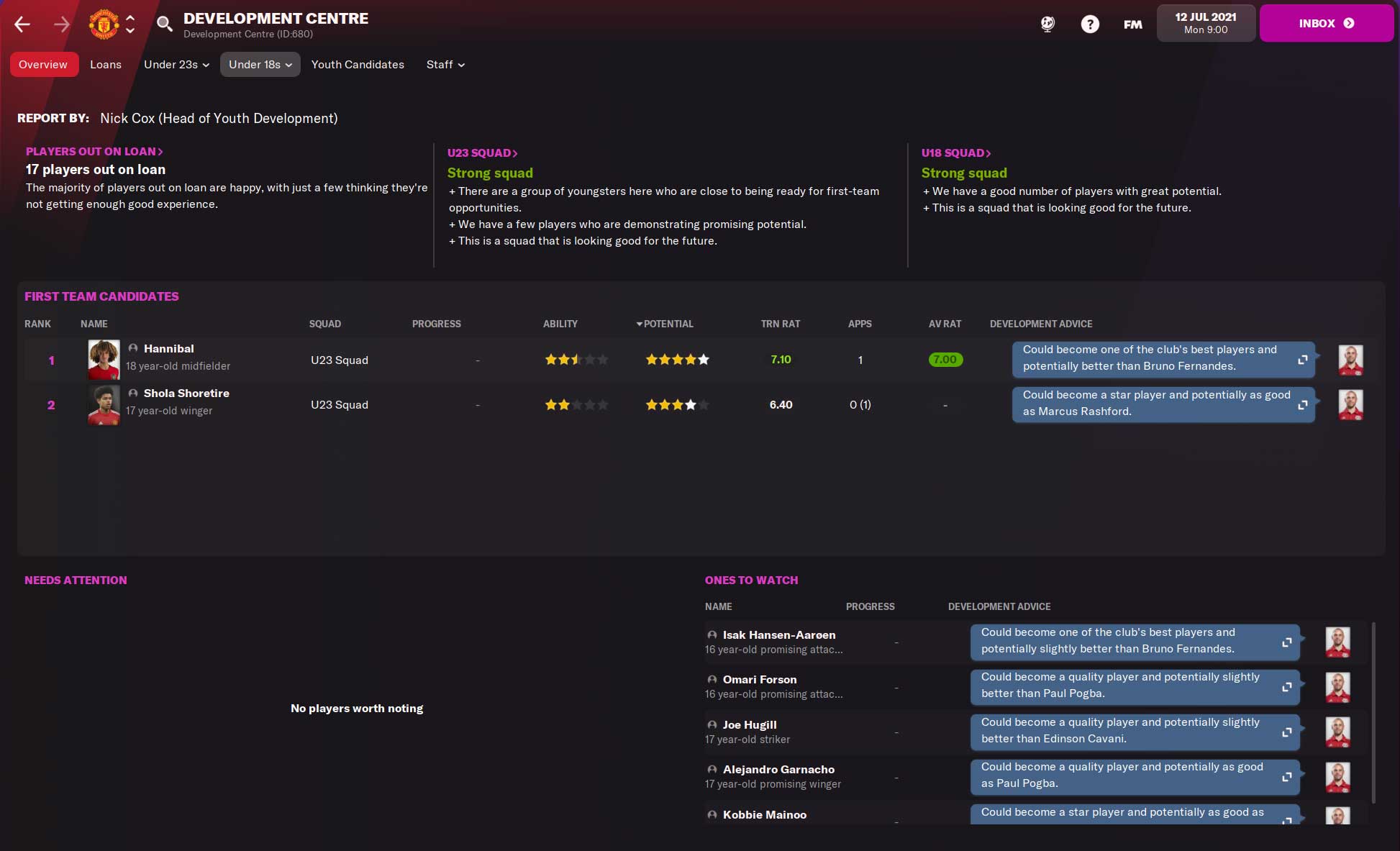 Responsibilities
Easy enough so far right..? But signing a new Head of Youth and not do anything with him is not the right way to go. In Football Manager you are able to alter 'responsibilities'. These could make you work a lot easier and you should really learn to use these wisely.
Obviously, you can give some responsibilities to your Head of Youth and in this section we will talk you through the various
Youth development & recruitment
His key job is bringing in new players into the club and it would be nice if he brings in quality players that you can use in your first team one day. During the season he will be giving you feedback of the development of your youth players and he will be giving you advice on personal training area's.
The Head of Youth will need the following if you want him to bring in the best youth players:
Scouting knowledge
The better his and your club's scouting knowledge is, the bigger the pool is from which he will be signing new players for your youth teams. His own knowledge is probably the most important, so ideally you would like a Head of Youth with knowledge of countries with a high youth rating and reputation.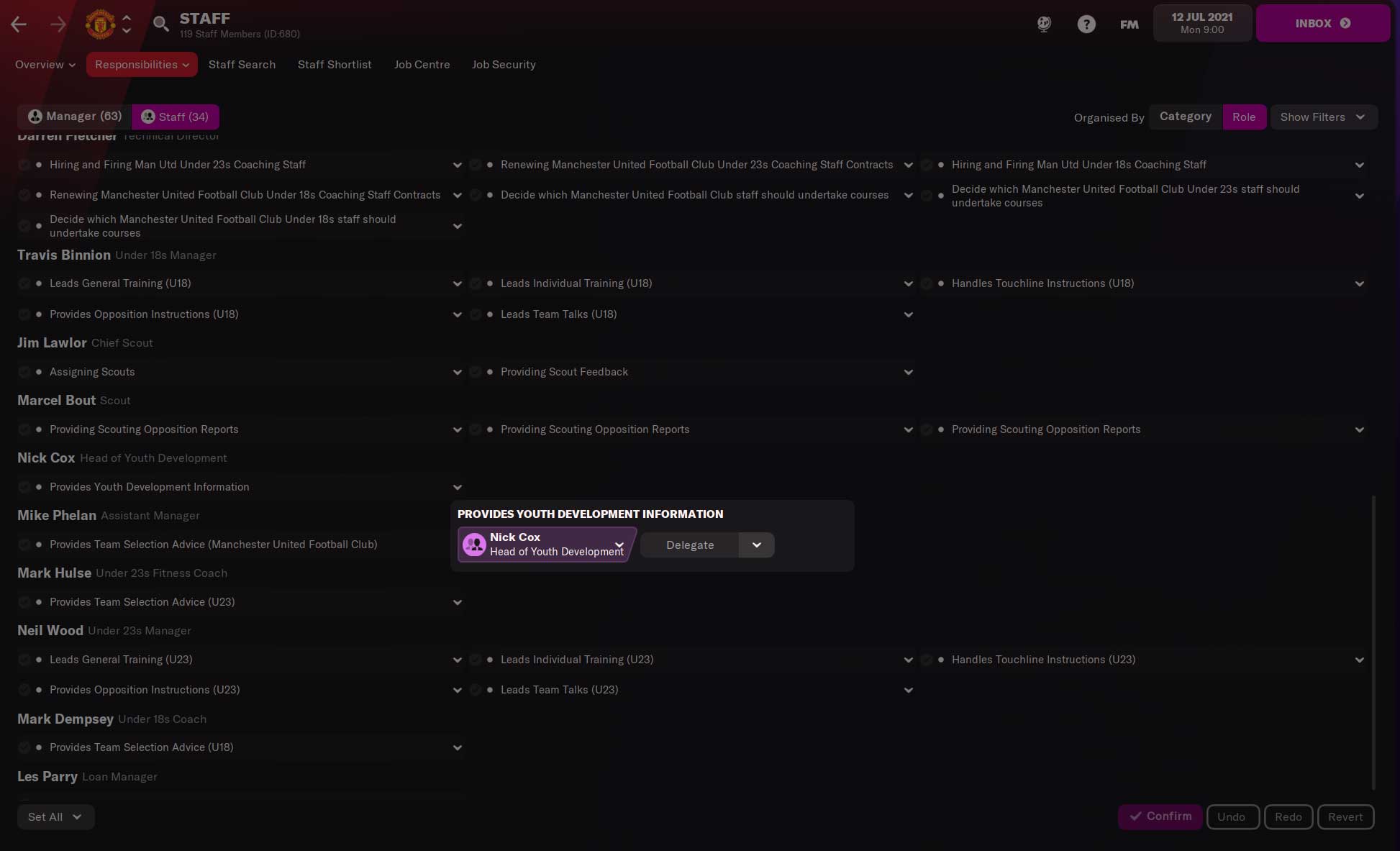 Personality
A Head of Youth tends to find youth players with a personality that matches his own. So, make sure to look for one with a positive personality. Examples are:
Model Professional
Professional
Resolute
Determined
Important: real staff members don't have negative personalities, these are only given to newgens.
Tactical preferences
Another area that is vital for a Head of Youth to have is his tactical preference. Or at least it is key if you want to develop players through your academy and to use them in your first team.
Why? Because a Head of Youth will look for players that will fit into his own tactical preferences.
For example; if you sign one that loves to play a 3-5-2 with wing-backs, you can bet your bottom you will be handed wing-backs on youth intake day. And that is kind of a waste if you don't use those.
Sure, you can re-train those players. But, you want to focus on developing his attributes, not wasting time on learning a new position.
It is also important for the Head of Youth to have a similar Passing style and Playing Mentality as yourself. The players that he will bring in on youth intake day will be easier to fit in your tactics and formation.
Training
Did you know that the Head of Youth is actually one of your youth coaches? When signed, he will be available as a coach to reduce the workload of the other youth coaches. Ideal if your board limits the amount of coaches under contract.
When assigning responsibilities for your Youth Squad, the Head of Youth and Youth Manager (U18 or U19) can share some of their responsibilities. So have a good look at the profiles of these two and compare them.
There are two responsibilities for this area:
Leads general training
Leads individual training
Compare your Youth Manager(s) and Head of Youth and then decide which one takes which responsibility. You can compare them on the following attributes and/or abilities:
Working with youth
A must-have for every Youth Coach or Head of Youth.
Coaching attributes
The coaching will work the same way as the coaching of your first team. So next to the working with youth attribute, look for the standard attributes needed to create 5 star training.
Tactical knowledge
Not only important for the annual youth intake, but also important for setting Match training / Individual training or Match preparations.
Transfers & contracts
The third area a Head of Youth could help you out is in the transfer and contract department regarding the youth squad.
The 5 available responsibilities for this area are:
Finds and make offers for young players for the future
Handles new signing contract negotiations for players in your youth team
Finalises signings for young players
Finds a new club for Youth players who have been listed for loan/transfer
Extends youth contracts
We can all agree that 1, 2 & 5 are very dangerous. Trusting the AI has proven to be a poor choice in many saves. But the other two could become quite handy and will put less pressure on your task as a manager.
Also task number 4 could be given to the Loan Manager as well, which is probably the best choice these days.
Learn more on negotiating deals in Football Manager.
If you want to give your Head of Youth any of the above responsibilities he will need:
Judging player Ability & Potential
If you want him to find the best youngsters he will need these attributes. But also if you want him to extend youth contracts, he needs to be able to judge a player's ability and potential.
People Management
This is very important when it comes to dealing with agents, other coaches and players.
Negotiating
This determines how good he will be in negotiating transfer and contract deals. If you want him to extend the contracts of youth players, the Head of Youth will need to be able to negotiate a good deal.
Determination & motivation
Although never confirmed, we believe that determination and motivation could help in this area. Determination to keep on looking for that new player, motivation to talk players into signing a deal. Also, if you instruct your Head of Youth to find a new club for a youth player he will need the determination and motivation to find a club.
Reputation
A Head of Youth could be using his reputation to convince players to sign for your club instead of joining another. In an ideal situation he will have a Continental or World Wide reputation.
Tactical preferences
Important if you want your Head of Youth to sign new youngsters. It is important because it would be a shame if he signs 4 expensive AMC's on long term contracts, whilst you don't use this position at all.
Development list
A responsibility for a Head of Youth that could be very handy is the Development List. This is a list of players who are automatically made available for loan. So add the player you want to send out on a loan on this list and your Head of Youth (or Director of Football) will try to find a club for him.
Eligible for contract
And finally; the Head of Youth (or anyone responsible for this area) will provide you with information about players on a youth contract who have been made eligible for signing a professional contract. That way you can make sure your best youngsters are kept at the club.