A list of essential downloads to get you started with Football Manager 2022!
You have purchased Football Manager 2022 and you are ready to start the game for the first time. But wait! Don't start up the game yet! Despite Football Manager being a pretty cool game from the start, there are ways to make the game even cooler! In this article we will highlight some of the downloads I use for myself and ones I consider to be absolutly essential for playing the game!
FMI Update
Number one is of course the FMI Update. Play FM with the latest transfers, updated squad rosters, updated leagues, corrected league & cup names, new to discover wonderkids and much much more. While the FM22 version of our update has not been released, the FMI Update should be one of your first downloads when the game is fully launched.
We are aiming to release a first version of the update in the first week after the full FM22 release on November 9th.
DF11 Facepack
Player faces! Football Manager has some leagues licenced but not every player has an official face. By downloading and using the DF11 Facepack you will add more than 170.000 real player and staff faces to the game! The DF11 Facepack is the best looking facepack in the community and can also be seen in our very own player database.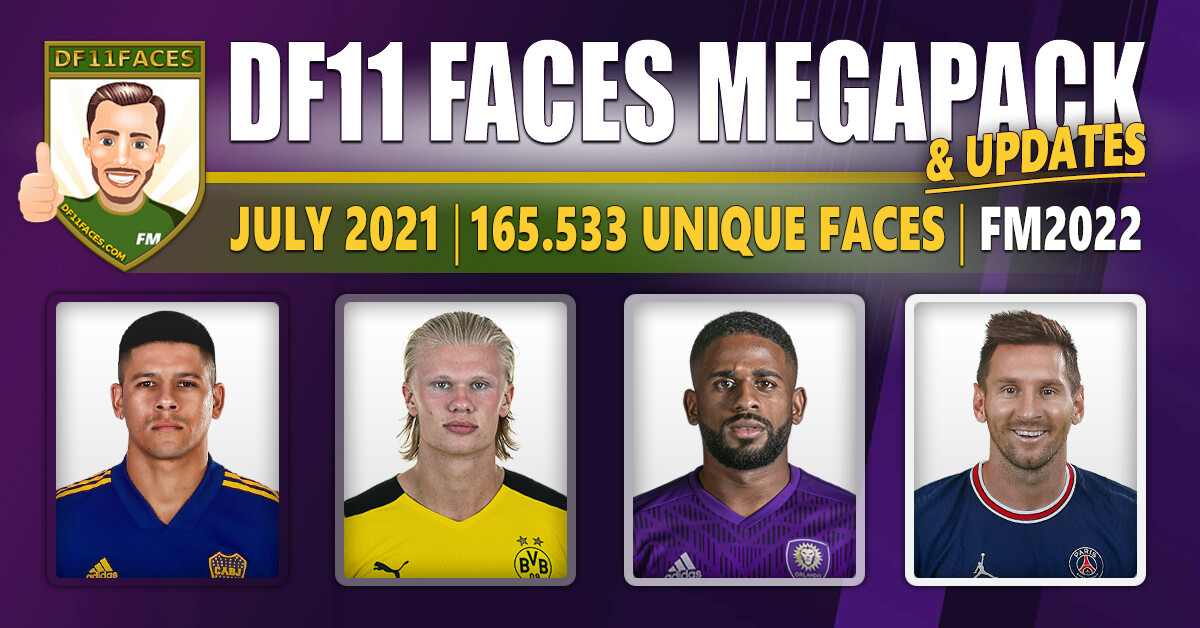 FMI Logopack
Add more realism to Football Manager by download a logo pack. Last year we introduced our very own FMI Logopack with more than 54.000 standard logos. With almost 14.000 downloads up to this point we are very proud that the logopack has been welcomed by the community. A large FM22 update has been released, making the logo pack bigger and better than ever!
FC12 Kitpack
For years now the FC12 Kitpacks by FMSlovakia have been considered as the absolute best in the community. Not only do these kits have a very realistic look, the number of packs for the game have been growing rapidly! Not only are almost all big leagues already covered, they have also released packs for smaller countries, bringing the total number of packs at 100 already! The standard version of FM doesn't have that many licenced kits, so this pack is an absolute must if you want to make Football Manager look a lot more realistic!

DF11 Regen Megapack
Newgens and regens come in all shapes and sizes. But we all agree that these computer generated faces aren't that great. Luckily the guys over at DF11 have created a great Newgen/Regen facepack to use in Football Manager. This pack contains more than 3.000 unique faces to use in any version of Football Manager. This helps you replace the regen/newgen faces as they are generated in the game!
Download the DF11 Regen Megapack
Stadium Megapack
The original database of Football Manager has almost every stadium in the world. However, they lack images of the stadiums. With this megapack you will add almost 10.000 unique stadium pictures to Football Manager 2022! This not only adds realism to the game, it also looks very good! To make this pack work you will have to download as custom skin with stadium panels added to the club screens.
Trophy Megapack
Trophies can be seen in Football Manager on the general club screen. However, the trophies are generated by Football Manager and are therefore not realistic. With this pack you will be adding over 1200 realistic cut-out pictures of trophies in Football Manager, covering every possible trophy you can win!

FMInside Flag Pack
The standard flags of Football Manager look good, but if you want a great look you should be downloading the FMI Flagpack (also included in the standard logo pack). These unique 'flat' and 'minimal' style flags will add some extra flair to your copy of FM22!
Best Staff Shortlist
If you want to perform at your best you will need to sign the best staff in Football Manager. We have created an insane shortlist for the game with more than 2.200 different staff members, covering every important staff roles in Football Manager 2022.