An in-dept guide to the Scout backroom staff role in Football Manager.
The recruitment team is one of the most important backroom staff teams at your club. They will help you find the next Lionel Messi or the future Erling Haaland. One of the key members of the recruitment team is the scout (and also the Chief Scout).
What are the tasks of a (Chief) Scout?
The main job of the scouts is finding new players for your club and if possible players who make your current squad better.
There are different assignments you can give to a scout:
Scout a nation
Scout a league
Scout an individual player
Scout a club
For all of these assignments the scout will bring you a report in which he will present his results.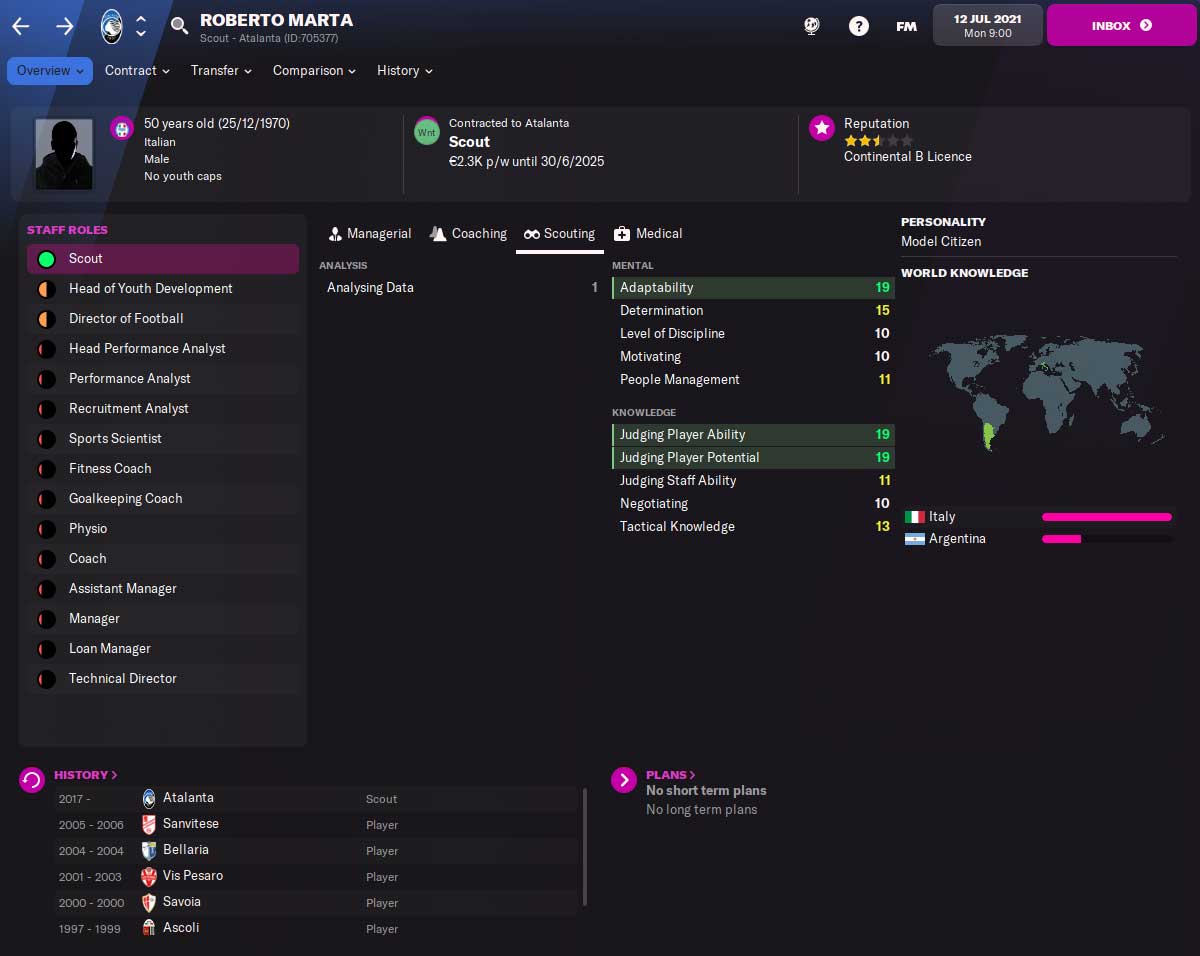 Responsibilities of the Scout
As stated earlier: the scouts will look for new players but can be given a wide range of different responsibilities in Football Manager. These are:
Providing Own Team Analysis Reports
Providing Scouting Opposition Reports
Providing Opposition analysis Reports
Assigning Scouts
Handling Scouting Meetings
Providing Scout Feedback
These responsibilities can be given to one of your scout(s), your chief scout or - if available - the Recruitment Analyst or the Performance Analyst.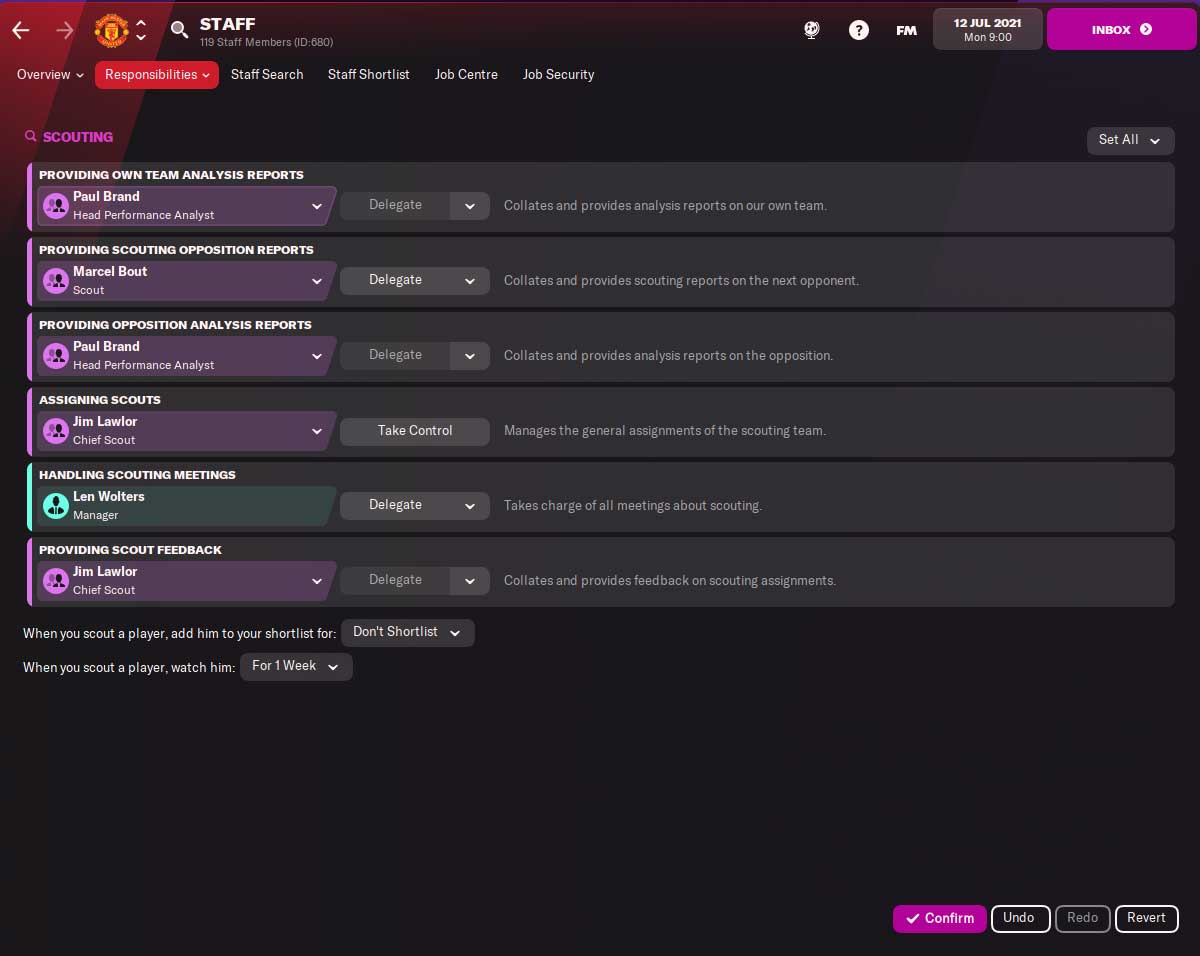 Scouting Centre
The main area for all things concerning scouting is the Scouting Centre. From this tab you will be able to access everything that involves your recruitment team. From setting up assignments for your scouts to browsing through all their recommendations and scout reports.
The purpose of the Scouting Centre is to give the player one single area to find all the essential information on potential signings and scouting assignments.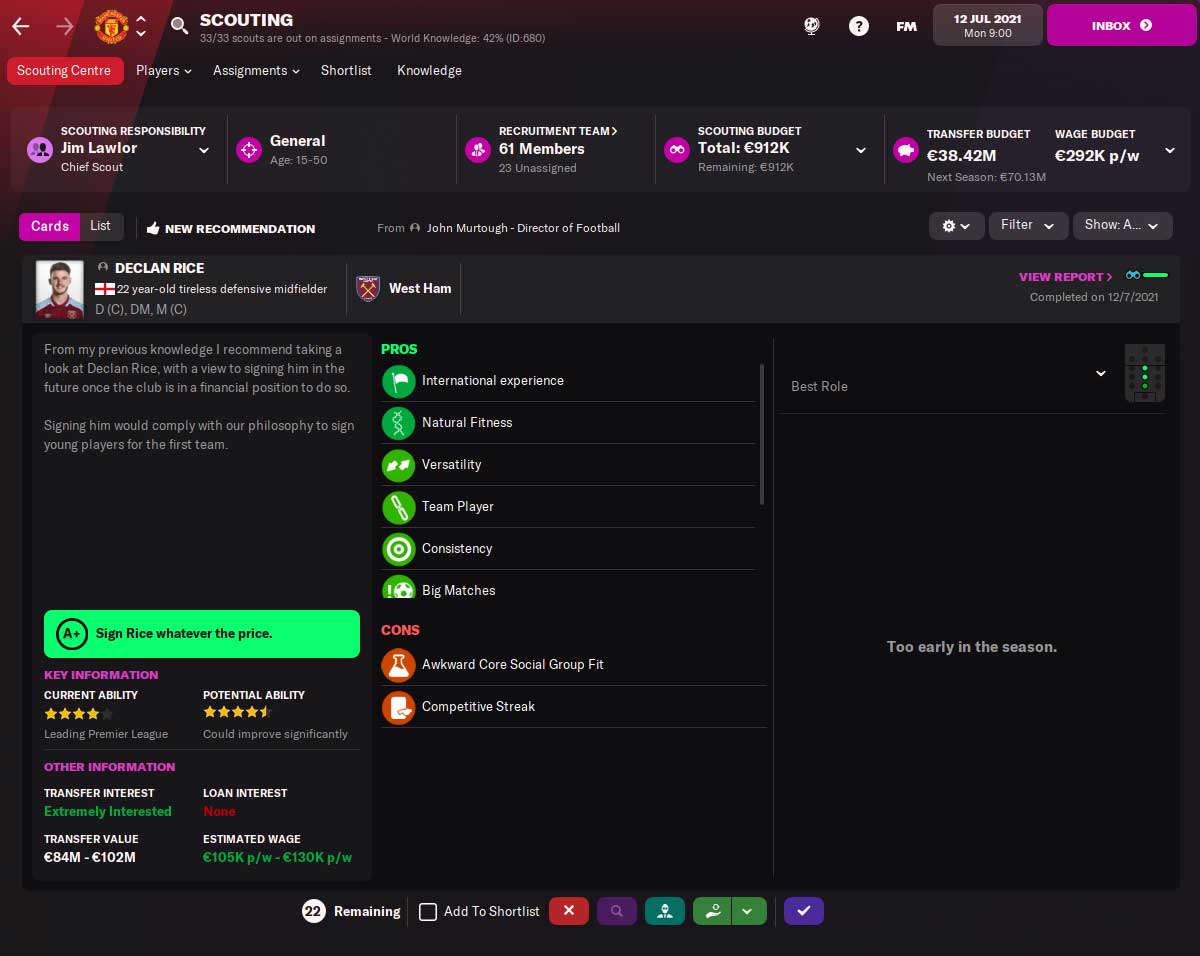 Essential Scout attributes
When you are looking to sign a new scout or a couple of new scouts, there are some essential attributes to look at. These are
Judging Player Ability
Judging Player Potential
Adaptability
We will discuss all of these.
Judging Player Ability
Key attribute if you want your scout to find the best players. Because having a higher value will give quicker and better results. This attribute will help the scout determine the current ability of a player.
Judging Player Potential
Also vital, but only if you are planning to use a scout to find young players. A scout with a higher rating for this attribute will give you a better and more complete report.
Adaptability
A scout could be spending a lot of time abroad. So, he will need to able to adapt to different cultures.
*This attribute has never been proven or confirmed by SI, we do believe it to be a very important attribute for this member of your backroom staff.
Optional Scout attributes
Some attributes are considered to be optional for a scout. Although they have not been confirmed by SI Games, they are considered important by the community. These are:
Determination
Tactical Knowledge
Determination
Without determination a scout could stop too easily whilst he is on a scouting trip, but a scout with high determination will motivate himself to find more players.
Tactical knowledge
Some members of your scouting team should be given the assignment to look for new players. One could be assigned to make a report on your next opponent. He will not only rate the squad, but he will also give you tactical advice. This scout will give you a report with important information like:
Expected formation
key players
Last results
And more…
These days scouting your next opponent will be the main task of the Performance Analyst Team.
Motivation
If you send your scout on a long scouting trip around the globe, he will need to motivate himself to keep on looking. This has never been proven or confirmed by SI, but we believe this attribute to be important.
People Management
An attribute which is needed for your Chief Scout (if you have one), who is responsible for setting assignments for your scouting team. This attribute determines how well the staff member is able to deal with those around them and particularly below them. A high rating will reflect someone who is capable of keeping everybody happy.
Siging Scouts - Who should I sign?
If you're thinking about changing your scouting team, it's advised not to just hire the same kind of scouts (with high judging ability and potential attributes). In all cases, try to put together a scouting team that complements each other so you can use them for different purposes.
When creating a new scouting team there are about 5 main jobs to consider.
1. Chief Scout
If you do not expect to spend a lot of time giving assignments to your scouts, it is useful to appoint a Chief Scout. You can give him the responsibility to provide your scouting team with new assignments.
The danger of this is that your scouts will end up in places or have to scout competitions that you really wouldn't want to scout.
2. The Current Ability Scout
While some managers like to only attract young and talented players, sometimes you also benefit from a player who immediately improves your team. If you find this useful, it is good to attract a so-called Current Ability Scout. He needs a good Judging Player Ability rating and will use it to look for instant reinforcements.
3. The Potential Ability Scout - Talent Scout
Always instruct a couple of your scouts to look for young players and young players alone. The youth has the future and with a number of wonderkids in your youth teams you assure yourself of a strong future
4. The Head Scout
Not to be confused with your Chief Scout. The Head Scout is your most trusted scout. He is the one who has - possibly - the best qualities for scouting and the best knowledge in the world. The Head Scout is the one who sends you off to matches to take one last look at the player you want to sign. He will be the one who will give the final verdict on a player. If he's happy, so are you!
5. The Club scout
Finally, we have the Club Scout, although this task will probably be done by the Performance Analyst or Recruitment Analyst. However, it is possible to appoint a scout to look at a club or a possible opponent. He will then make a report on the players and their qualities. If the Scout also has good Tactical Knowledge, he will also be able to give good advice about the tactics of the club.
How many scouts should I sign?
This mainly depends on what kind of club you are managing and what your goals are.
Rich clubs have the opportunity to put together a complete team with 30 to 40 scouts, some smaller clubs will sometimes have to make do with 1 or 2 scouts.
Ideally, your goal is to assemble a scouting team of at least 20 scouts. Football Manager has a total of 25 regions and with 20 scouts you can at least scout the largest regions well. You can merge the smaller regions and place them at 1 scout. By appointing a large group of scouts you can greatly increase the chance of finding that one great talent.