A list with five potential wonderkids that we could possibly see introduced in the database of Football Manager 2023.
With every new release of Football Manager a new set of super wonderkids is added to the database. Most FM fans are big fans of the typical wonderkids list, seeing our potential FM22 wonderkids list received over 14.000 views.
And to look ahead towards the release of Football Manager 2023 on November 8th we have used our very own FMInside Transfer Update to select five amazing young players who weren't in Football Manager 2022's standard database. The players on this list can't be found in the standard database of FM22 and you will require our update to find them.
Pre Purchase Football Manager 2023

Unlock early BETA access and start playing two weeks earlier while you save up to 30% compared to Steam prices.
Potential FM23 Wonderkids
We have handpicked five of the best new youngsters that we have added throughout the year in Football Manager 2022. The screens are also from FM22 and the information and attributes could be different from the ones we see in FM23. Nevertheless you should mark the names of these players and remember them for the full game release.
Endryck - Palmeiras - ST
We kick off the list with Endryck. This 16-year-old Brazilian is seen as one of the greatest talents in the world and is seen by many as Neymar's successor in the Brazilian national team. So far, Endryck has made a big impression in the youth teams of Palmeiras and Brazil and it won't be long before the big clubs from Europe will be trying to lure him to one of the big leagues. Could Endryck be the new -10 wonderkid in Football Manager?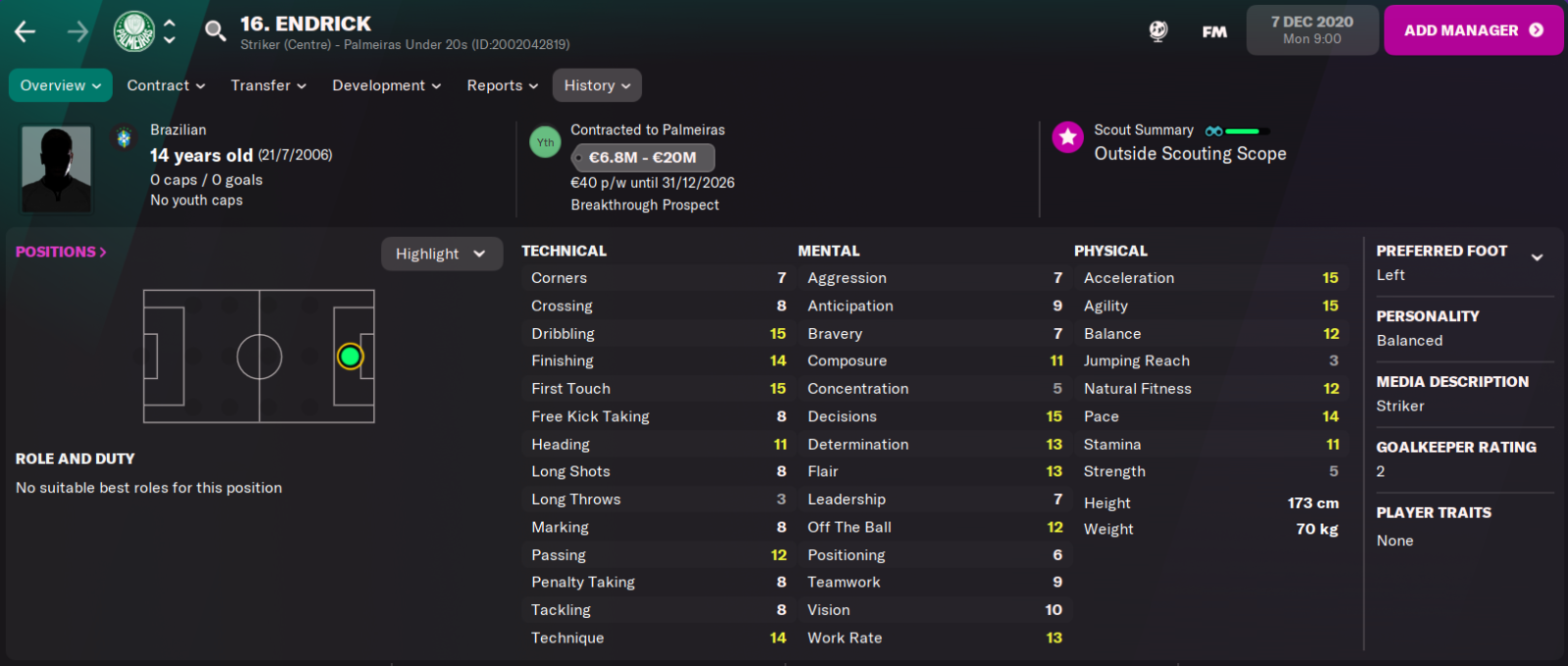 Lamine Yamal - Barcelona
Despite being only 15 years old, Lamine Yamal was recently allowed to train with the first FC Barcelona. If you get the chance to train with the big boys at that age, that says something about the potential of the player. Yamal is a left-footed right winger and already at his age he plays with the under-19 squad and is jokingly referred to as the 'mini-Messi'. A player to keep an eye on when he is added to the FM23 database, especially because he is not officially allowed to sign a professional contract yet and can therefore be picked up at Barcelona for a nice fee.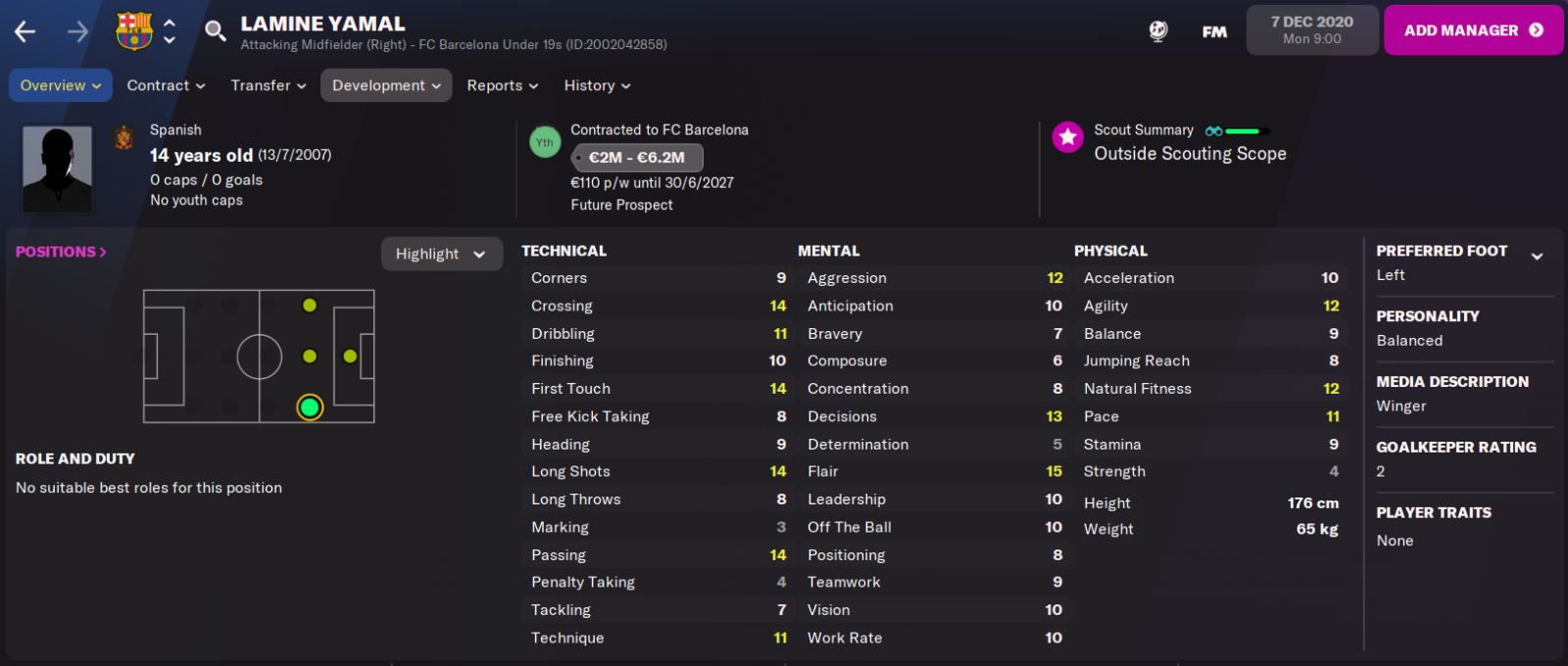 Jobe Bellingham - Birmingham City
His brother Jude Bellingham is considered one of the greatest talents in the world and recently the Bellingham family has a second professional football player. 16-year-old Jobe Bellingham signed a professional contract with Birmingham City and was also allowed to make his debut in the main squad this season. Just like his big brother, Jobe is a central midfielder who likes to attack. Having just signed a contract with Birmingham, the youngest Bellingham won't be very cheap, but if he looks anything like his big brother, Football Manager has another very big talent in the database.
Rayane Bounida - Ajax
This summer Ajax managed to contract the sought-after Rayane Bounida from Belgium side Anderlecht. The 16-year-old attacking midfielder and Belgian youth international has been considered as one of the biggest prospect in Europe. Several clubs including FC Barcelona, Manchester City and Paris Saint-Germain were after Bounida, but he consciously chose Ajax in the end. In terms of player type, he resembles former Ajax player Abdelhak Nouri (once a wonderkid in Football Manager) and current Trabzonspor loanee Naci Univar (also a wonderkid in Football Manager). In any case, he has enough talent to grow into a strong player and he will be given a high potential in FM23.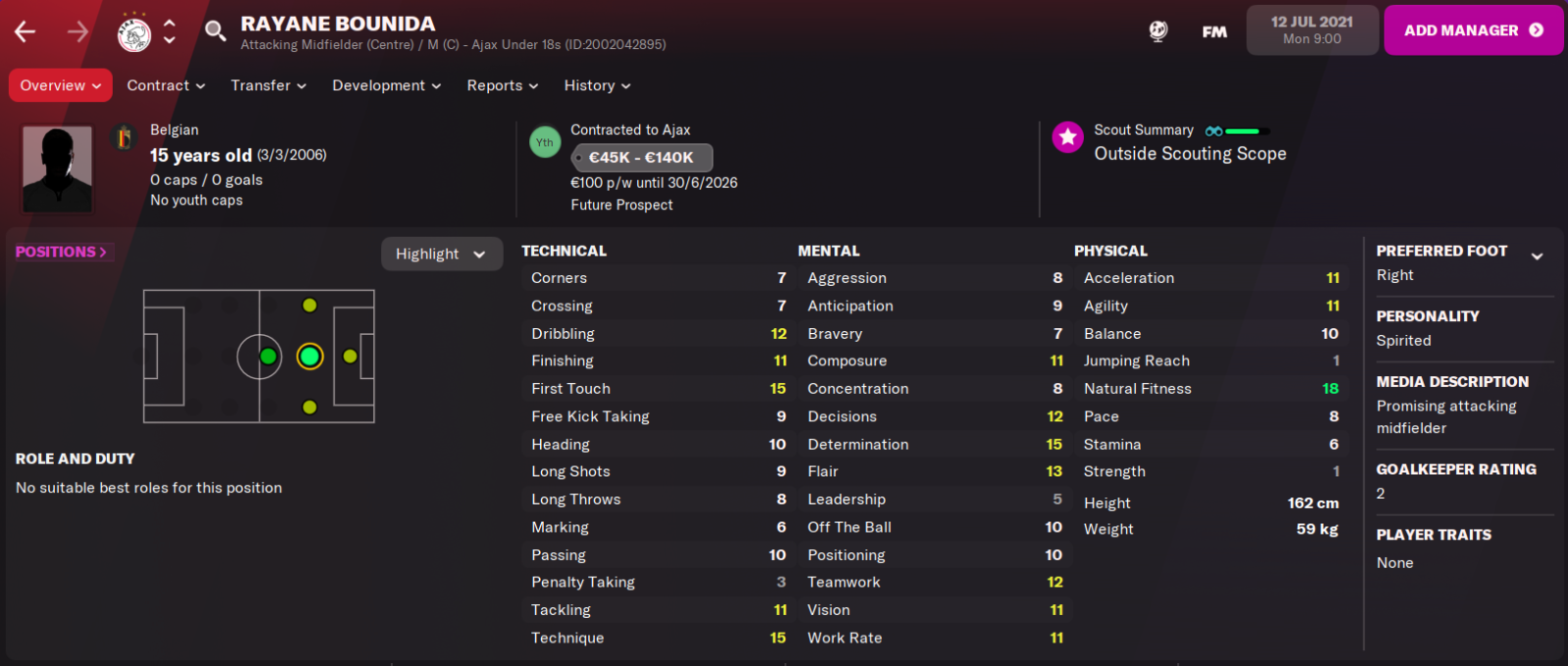 Thierry Henry - Sao Paulo
The name Thierry Henry seems to be back in football. But, no it's not a revival of the legendary French Arsenal forward, but it's a just 15-year-old Brazilian who is impressing in Sao Paulo's youth squads. Despite his young age, he already plays with the team for players under 19 years old and he was allowed to train with the first team several times. His talent is not the only thing that is impressive, at 1m87 (6ft1in) there is also a real presence on the field. In terms of player type, he doesn't have the suppleness of, for example, Endryck or the imposing technique of his illustrious namesake, but Thierry Henry is certainly a player to keep an eye on if he is added to Football Manager 2023.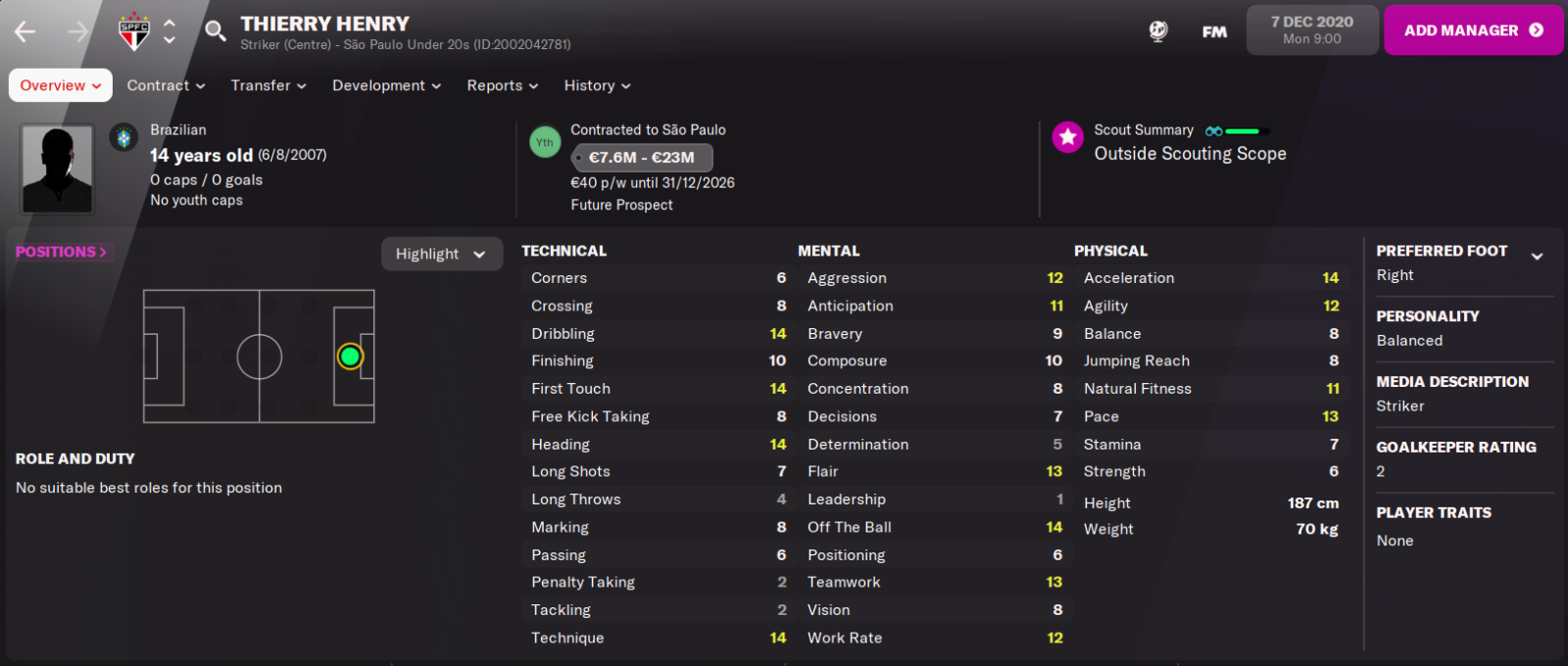 Wonderkids in FM23
Do you have any wonderkids that you want Sports Interactive to add to Football Manager 2023? Please leave a comment!