The Data Hub is one of the key new features in Football Manager 2022.
Data and statistics have become more and more important in the world of football and Football Manager have followed this development. Over the past couple of years the statistical side has been given a larger role in the game and in FM22 Sports Interactive have acknowlegded the importance of data in their own game by introduing the Data Hub.
Buy Football Manager 2022

Get your FM22 copy through FMInside and receive a discount up to 20% plus you will be able to play the game two weeks ahead of the full release on November 9th!
Data Hub in FM22
You now have a central area for data and statistics in Football Manager 2022, which can be accessed from the menu on the left side of your screen. The first screen is your starting point and will give you access to deeper reports for individual players, teams, matches and your opponents.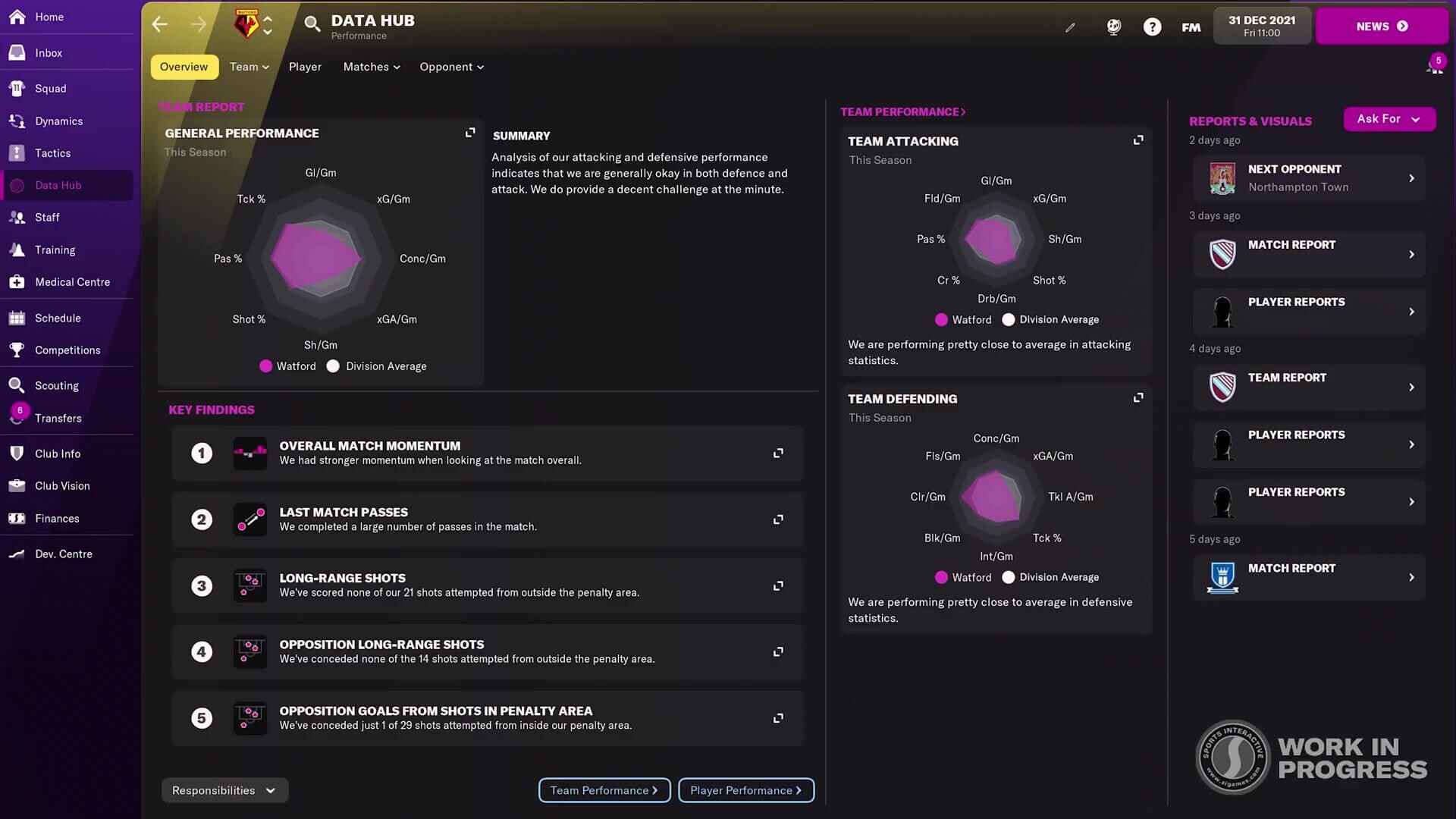 Key Findings
In the Data Hub your backroom staff will give you tools to review your own performances and advice to improve. A central area in the Data Hub will be the Key Findings widget. Here your backroom staff (most likely your chief data analyst) will highlight certain areas of your team which can either be reviewed or improved.
In the screens we have seen there have been reports like:
Overall Match Momentum
Last Matches Passes
Long Range shots
Opposition Long Range shots
Opposition Goals from shots in penalty area
Last match XG
Opponnent XG
When clicked on the Key Findings a pop-up will appear displaying more details of the data, including a graphic to increase usability.
New are the 'momentum' reports, which show and reflect the flow of an entire match. This will allow you to spot certain strengths or flaws in your tactic or gameplan.
Reports
The Data Hub will also be the place to ask for player and team reports, rather than requesting them from an individual player or club. This will make it easier to use and SI have more space available to improve the details and looks of the reports.
Screenshots
These are some more screenshots from the Data Hub, taken from the Feature Video created by Sports Interactive.