Want to do something different in Football Manager 2022 that your average save? Here are five long-term challenges to complete.
Journeyman Challenge
One of the most played challenges is the Journeyman Challenge. Managers tend to spend little time at clubs these days and types like Sir Alex Ferguson or Arsene Wenger are becoming more rare. This has made the Journeyman Challenge very popular in Football Manager.
What is the challenge?
You start unemployed without any coaching badges or reputation. You will then have to work your way up the football ladder by hopping clubs as you try to reach the top of the world. How you get to this level is completely up to you. You can move to South America, Africa, Asia or stay inside Europe. It is all up to you!
By winning games and trophies you can earn reputation and by completing coaching courses you can improve your coaching skills. If you have the determination to keep on playing you will end up at one of the major clubs in the world, fighting for the biggest trophies.
When is the challenge completed?
The challenge is completed when you have become the greatest manager the world has ever seen. You achieve this by claiming the first position in the Hall of Fame world wide. Along the way you will be able to beat legendary coaches like Ferguson, Wenger, Bob Paisley, Jose Mourinho, Pep Guardiola and Ottmar Hitzfeld.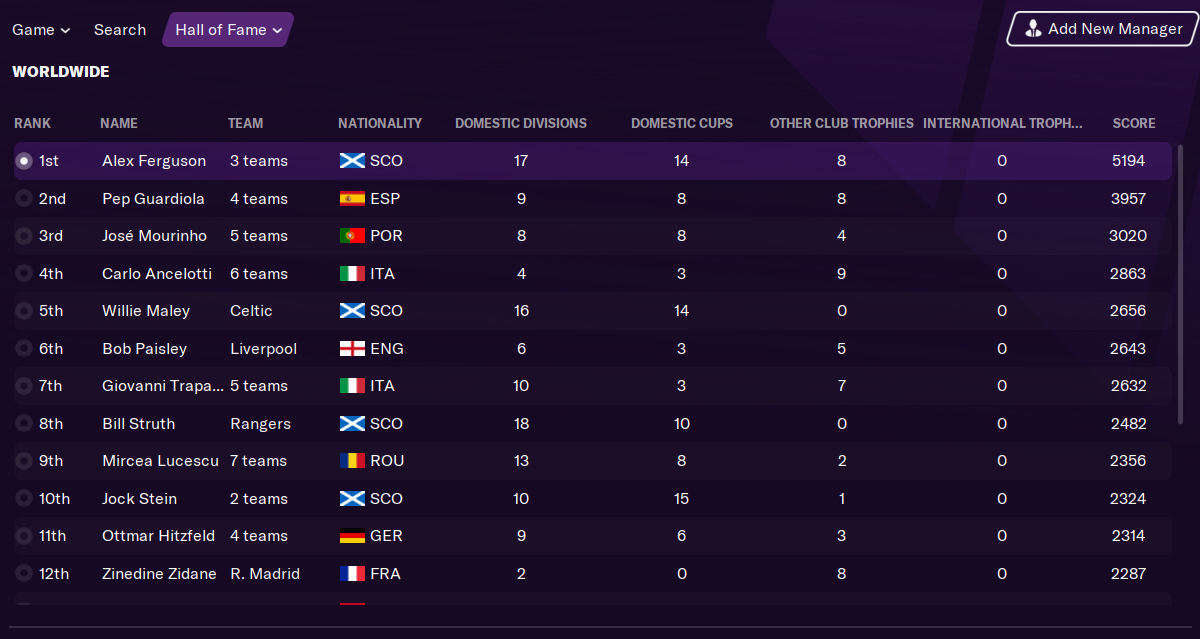 Youth Only Challenge
Money has become more and more important in the world of football and clubs have developed into real transfer machines. Lucky for us there are still several teams in the world who focus on developing youth players and refuse to sign players on transfers. This challenge is an hommage to these clubs!
What is the challenge?
In this challenge it is your aim to win the Champions League with a club without completing any transfers (your transfer history screen will always look like the screenshot below). The only players you are allowed to use are the players you acquire through your yearly Youth Intake. That is basically the only rule in this game. Selling players is allowed.
Also, if you are sacked you aren't allowed to create a new manager and return to the club. Once you are sacked you can either get a new job and start over or start a new save.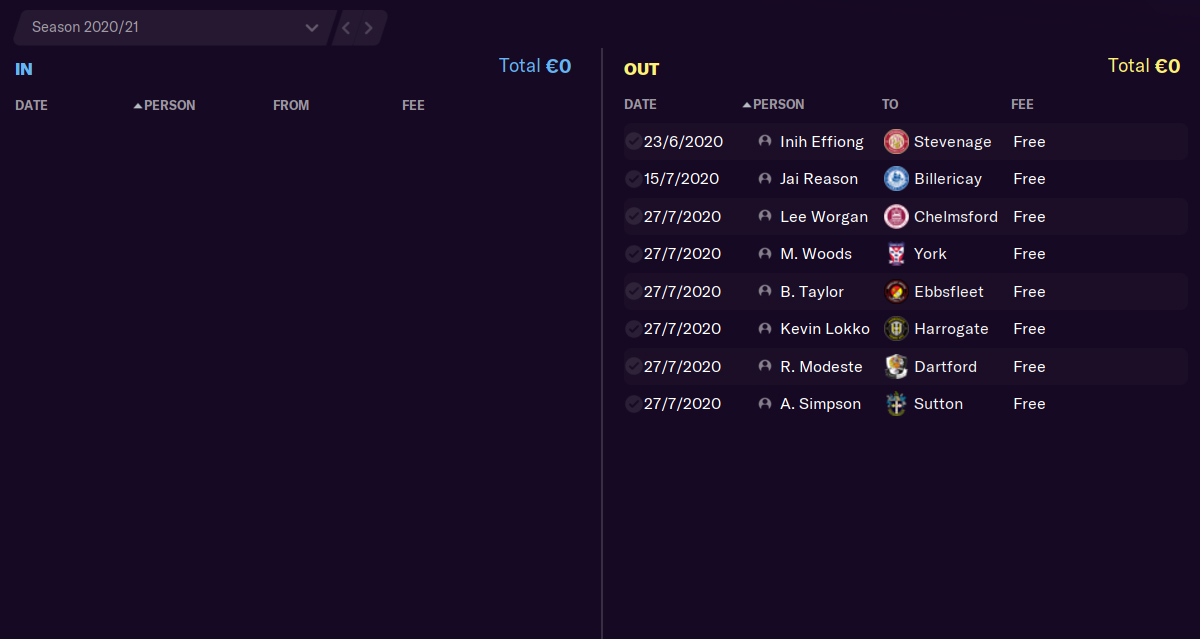 Club & Country Challenge
This challenge is also known as the San Marino Challenge but since it isn't possible anymore without downloading addons it has been changed to the Club & Country Challenge.
What is the challenge?
This is a duo challenge as you take on both a club and country. It is your aim to develop both the country and club as you try to take over the world with both. There are several options for completing this challenge. It can be winning the Champions League and World Cup, but could also be claiming top spot on the Club Ranking and FIFA ranking.
The fun part about this challenge is that you can complete it on several difficulty levels. For example taking on an English club and England will make the challenge easier. If you pick Indonesia it will be much harder to be successful with both the club and country.
Cool nations you could pick
Serbia
Slovakia
South Africa
Peru
Uruguay
Indonesia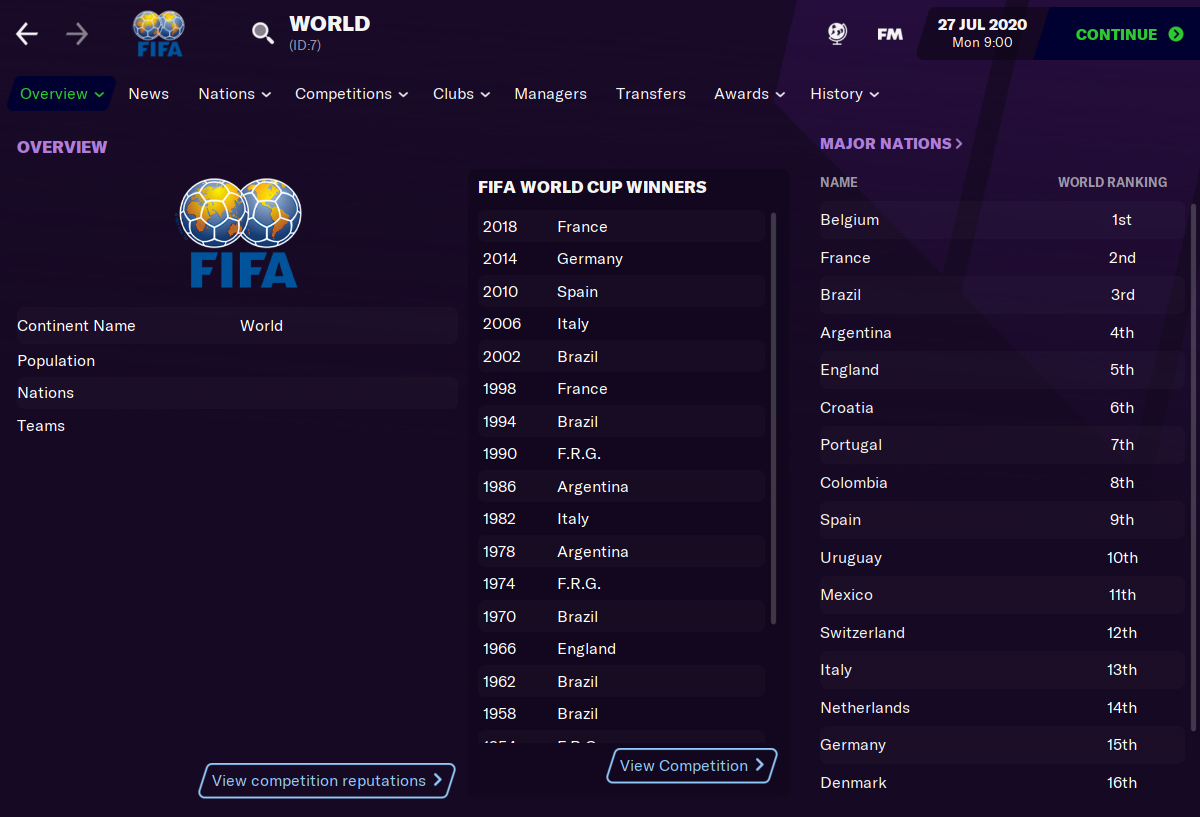 Pentagon Challenge
The Pentagon Challenge is one of the more popular challenges in Football Manager. But this doesn't make the challenge any easier to complete. This is a challenge that only the most determined players will complete.
What is the challenge?
Easy: win the biggest continental club competition on every continent. You have to win them all in one save. Meaning you will have to win:
Champions League (Europe)
Copa Libertadores (South America)
NACL (North America)
African Champions League (Africa)
Asian Champions League (Asia)
And once the new Football Manager is released, it is even possible to add the OFC Champions League (Oceania) to the challenge. This competition isn't available in the standard version of the game, so it's not included in the original challenge. However, this league is created by the community every year. Try our download area to find league addons.
Sir Alex Ferguson Challenge
In this challenge your aim is to emulate on of the best and most successful managers the world has ever seen: Sir Alex Ferguson.
What is the challenge?
Ferguson became the manager of Manchester United on November 6th 1986. You will have to holiday to this date and then take over the club which is second bottom in the league. First you will have to save the club from relegation, after that you will try to emulate his achievements.
Milestones to complete the challenge:
Win a domestic cup within four seasons (Ferguson won his first cup in 1990)
Win the league within seven seasons (Ferguson won his first title in 1993)
Win the national double within eight seasons (United won the double in 1994)
Win the treble by winning the league, cup and Champions League (United won the treble in 1999)
In total Ferguson has won the following trophies during his career:
13x Premier League
5x FA Cup
4x League Cup
10x Community Shield
2x Champions League
1x Cup Winners Cup
1x UEFA Super Cup
2x FIFA World Club Cup
The challenge is completed once you have managed to win as many trophies as Ferguson during your career, while managing a single club.