A 4-2-3-1 Gegenpress tactic, created by Rossini'
If you are looking for a tactic which focuses on high pressing and aggresive play, then this is the right tactic for you! Jurgen Klopp uses this style of play at Liverpool and it shows some excellent results but also leaves room for entertaining football.
The central idea of Gegenpress is to put high pressure to win the ball back as quickly as possible. This means the team needs to be organised well enough and they need to be prepared to fight for the full 90 minutes.
Actually, Gegenpressing is a fairly simple tactical approach: in loss of possession, the opposing team is put under pressure on their own half to force them to make wrong decisions. In possession of the ball, the open spaces are immediately looked at to launch a new attack as quickly as possible.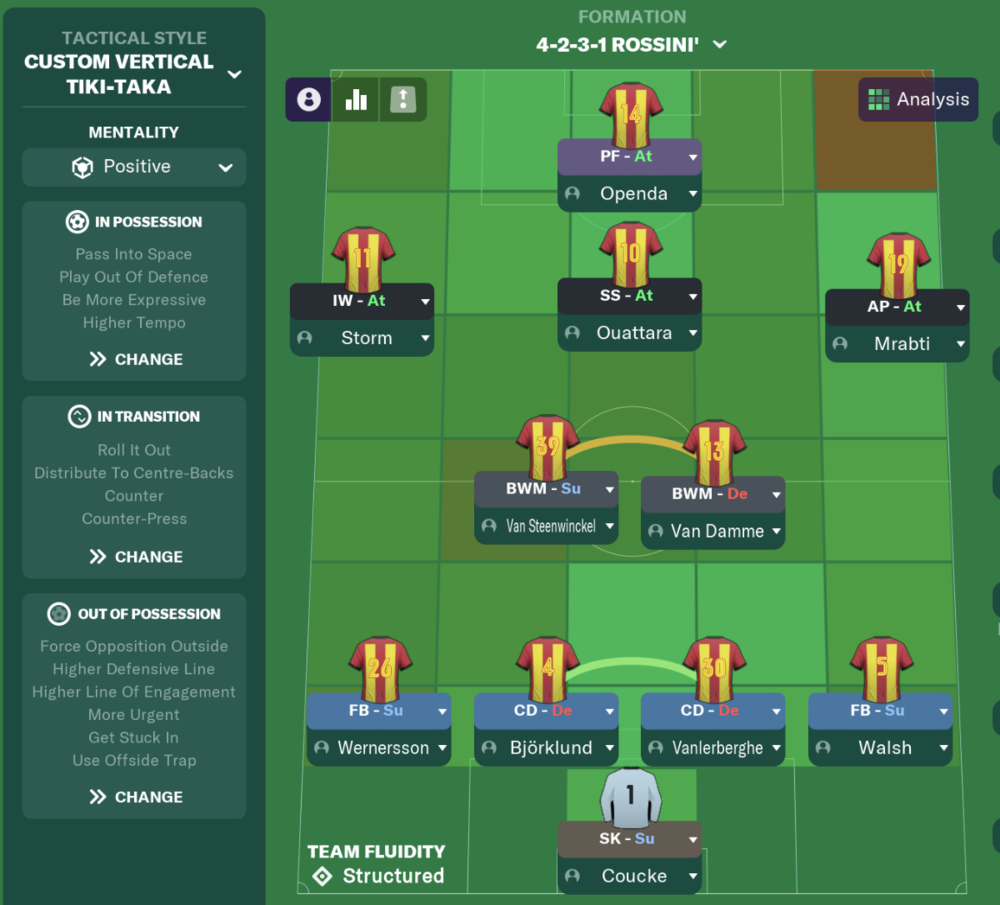 This tactic's aim is to use pace when in posession to get into the opponent's area as quickly as possible. Your team will also apply high pressure when the ball is lost then switch quickly when the ball is won to exploit the space. Pace and movemoent off the ball are key to success with this tactic.
Defence
The defense is a simple defensive line. The central defenders are limited to play simple football and their aim is to win the ball. The full-backs will be higher up the field when in possession to support the midfield and they will act as cover for the central defenders. It is important to play with quick defenders as your defensive line is set to Higher.
Midfield
In the central midfield you have two players who will have to do a lot of defensive work. You have two ball winning midfielders in a support role. That way they will take a little more risk when they have won possession. TIP: Don't hesitate to use creative players on these positions as this could be beneficial for these roles.
Attack
Up front you have four guys who will be instructed to focus on attack. The Advanced Playmaker on the right flank is one of the most important players in this tactic. He will be the one who sees a lot of the ball and tries to provide a lot of assists. The Shadow striker will be playing closely to the Pressing Forward and he will be instructed to move into channels. The Inverted Winger on the left side will be looking for assists, but will also be given the freedom to look for his own goals.
How to install 4-2-3-1 Gegenpressing Rossini'
Download the file
Move the file to \Sports Interactive\Football Manager 2021\tactics
Go to your tactics screen and click the + on the top of the tactics screen
Choose Load Tactic and pick the tactic you want to use
If you followed the steps correctly your downloaded tactic can be used.