Bring Football Manager 2023 into the 2023/2024 season with The Football Manager Update! This is V3 and is updated until July 28th.
The Football Manager Update - 23/24 V3
Released on: July 28th 2023 - Includes 72822 changes
This is the third version of The FMUpdate and will update your FM23 with the latest transfers and other changes from all around the world.
Transfers up to July 27th, including some for July 28th
Managerial changes up to July 27th
Promotion & Relegation for every playable league in FM23
New League formats (NEW)
Our new league formats for Belgium, France and Switzerland have been made compatible with the FMUpdate V3. It is important that you load the files into your save in order to get the correct 23/24 league structure and promotion / relegation for all playable leagues.
European roster
We have seen that FM is changing our edits to the European rosters. Meaning, there are some teams that will switch during loading. Example: Maribor of Slovenia will be left out and replaced by another Slovenian team. We are looking at a fix, but fear it will not be solved anytime soon.
Skip the World Cup
To replicate the 23/24 season we have managed to change the data of the 2022 World Cup, moving it back to the summer. We also added a fixture fix for the World Cup. This will remove the long breaks between November and December in the national leagues across the world. To properly use this add-on, you will need to make sure to use these files at the same time:
The FMU No World Cup.fmf
The FMU - Europe Fixture changes
With these files the national leagues and European competitions will schedule their matches normally.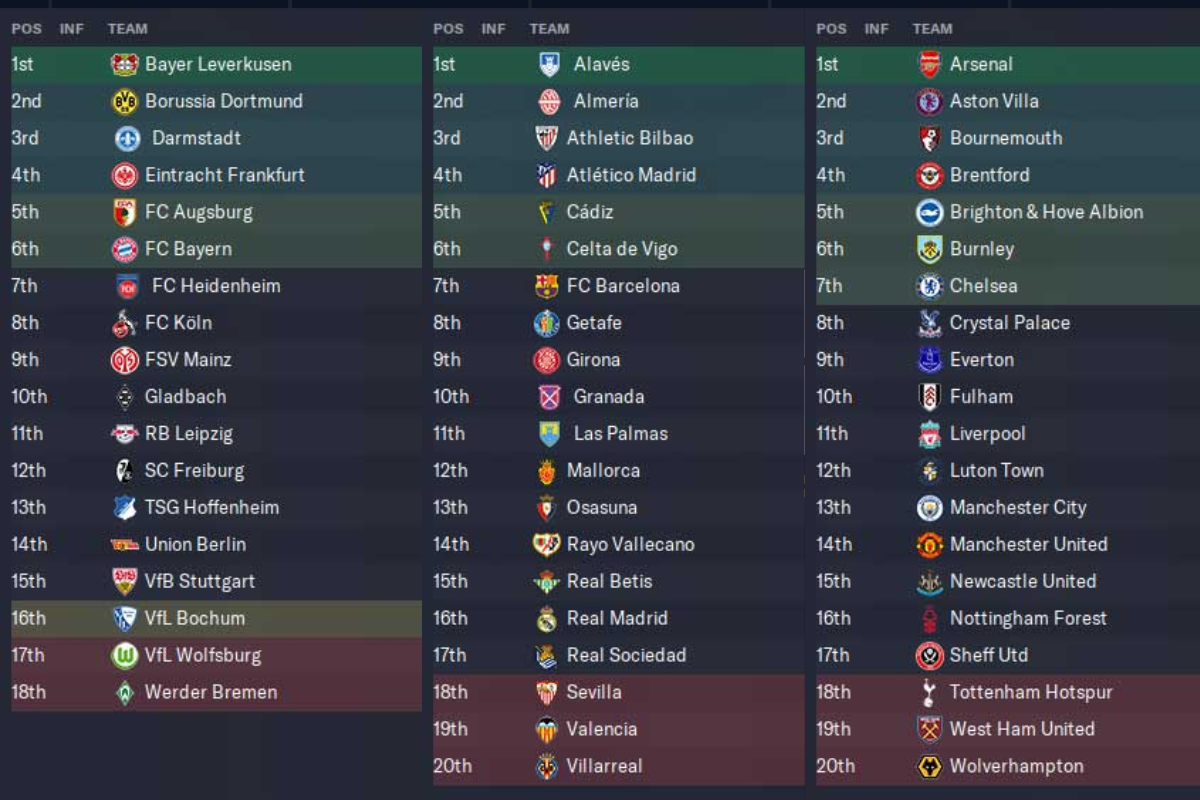 The FMU standard features
There are some standard features we push in every update we release. We always monitor the player weight and height and add or change these. We also keep track of captains and vice captains and make changaes if needed.
Missing players & staff (Ajax & Hansi Flick)
Updated heights & weights
Stadium name & capacity changes
Updated captains & vice captains
FMU - FM23 Add-on Packs
Use our add-ons to enhance your game experience even further. The add-ons we have for you in the FMU are:
Real Cup & Competition Names (10.305 changes)
Real Club names (10000 changes) (121k if you count the removal of the ugly Six Lettre Names)
Media Pack (39498 changes)
Brazilian club Color Fix (1000 changes)
Non League Players & Staff (1108 changes) (to use with the England lvl 10 database)
Created Players (2910 changes)
Agent Pack Light (2034 changes)
The FMU - League add-ons
In the FMU we also have several new leagues to discover!
Estonia to Lvl 3
Hungary to Lvl 3
Lithuania to Lvl 3
Luxembourg to Lvl 3
Malaysia to Lvl 3
Northern Ireland to Lvl 7
Poland to Lvl 4
Ukraine to Lvl 3
Saudi Arabia to Lvl 2 - Created by Dave

Including file to increase wages in Saudi Arabia
The FMU - Frequently Asked Questions
On which version of Football Manager can I use the FMU?
The Football Manager Update is compatible with the 23.4 database of the full version of Football Manager 2023 and will support the following platforms:
This update is NOT compatible with Football Manager mobile or the versions on Nintendo Switch, Playstation or Xbox. Also, this update can't be used with older versions of the game like Football Manager 2022.
My game starts in 2022 is that correct?
Yes. It is not possible to offer you the full experience without starting in 2022. If your start date is June/July 2022 it is correct.
Why doesn't the FMU use a custom start date?
We follow the same strategy as the official updates from Football Manager, meaning we do not complete transfers on a future transfer and always place a new player directly at his new club. By using a custom start date we can't guarantee the transfers being 100% accurate. Also, loans can't be given a future start date and could not be added to the game if we use a custom start date.
Is the FMU Compatible with other add-ons?
The FMU transfer file should be compatible with most add-ons as we don't change league structures. However, we have not tested the FMU with every available add-on. We can't assure you your save will work properly.
Redistribution
Are you a fan of our update and would you like to share it? Please point the download link to this very page and NOT the direct or steam link. You cannot host the files on your own website unless you have permission from FMInside or TheFMEditor.
How-To video How to install the update
Want to help?
Are you a big fan of using the editor and are you interested in joining the update team, please send an email to [email protected]
How to install The Football Manager Update - 23/24 V3
Download the zipped file
Unzip the contents of the folder using an unpacking software tool like 7Zip of Winrar
Place The Football Manager Update and other files in \Documents\Sports Interactive\Football Manager 2023\editor data
Remove old versions of the update pack! (Very important)
Start Football Manager and start a new career.
Make sure to select the 23.4 database
When selecting your database files, make sure the editor files you want to use are all ticked.
Continue to Advanced Settings
Once you have selected your Nations & Leagues you can start your game.
Having troubles installing The Football Manager Update? Have a look at our guide on how to start a new save in Football Manager or watch the instructional video on our YouTube Channel