The ultimate Face pack for Football Manager has returned for the Football Manager 2022 season! With more than 160.000 player faces it is the biggest and best facepack in the community!
The best and most popular Facepack for Football Manager has returned for yet another amazing season! Increase the realism of your Football Manager 2022 copy by adding over 160.000 real player and staff faces!
On this page you will find links to the Mega Starterpack (which is essential) and the links to all the updates that will be released during the full FM22 season.
DF11 2021 / 2022 Update packs
During the season DF11 releases montlhy update packs with new or updated player and staff faces. Below you will find all the available update packs and this page will be updated after each individual release.
Important: You always need to download the Megapack before downloading and using the Update Packs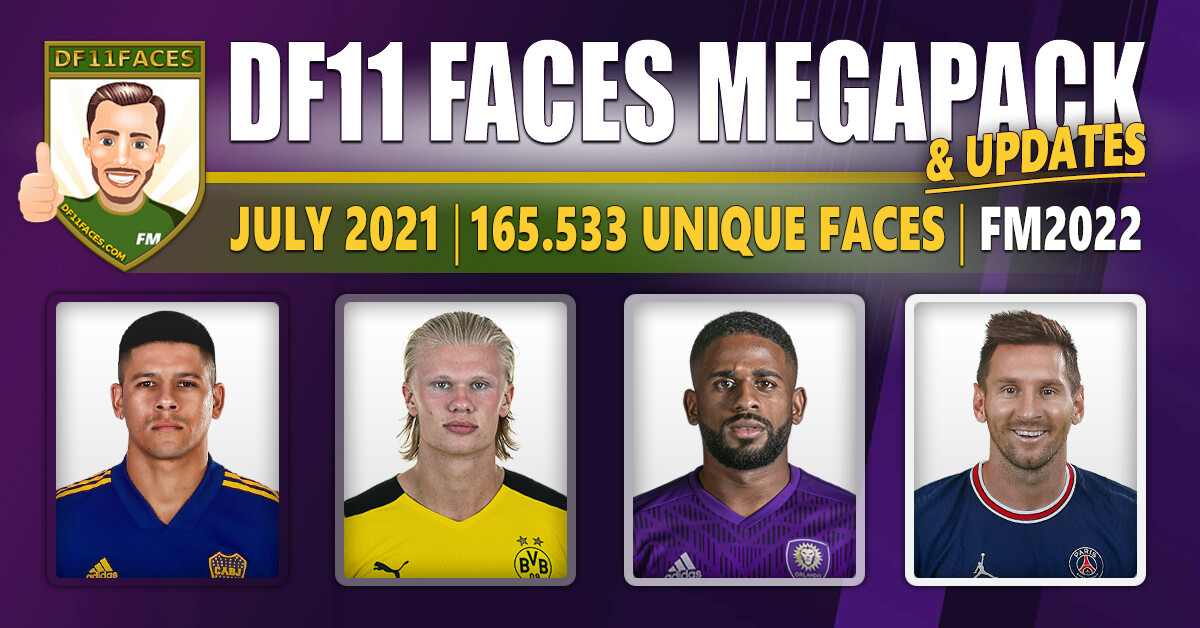 DF11 Regen Megapack
The DF11 Regen Megapack is a multicultured pack of generic player faces for Football Manager. The pack contains around 20.000 different faces, which can be used on both players and staff. If you don't like the standard newgens/regens in Football Manager, the DF11 Regens pack is certainly the way to go!
DF11 and FMInside
For years both websites have a great relationship and we have been supporting each other. Since the launch of our new website in 2020 we have been using the DF11 Facepack in our Player Database. This way the data in our database isn't only the most complete in the community, but also the best looking Football Manager tool!
How-to install a facepack in Football Manager 2022
How to install DF11 Facepack 2022 - Update 10!
Download the megapack through DF11faces.com
Use a tool like Winrar or 7zip to extract the content of the download on your system
Extract the contents of the folder into:
\Documents\Sports Interactive\Football Manager 202*\graphics\faces\
If the Graphics & Faces folders do not exist, you can create them manually.
Run Football Manager and navigate to Preferences > Interface.
Tick the box 'Reload skin when confirming changes in preferences'
Untick the box 'Use caching to decrease page loading times'
Hit confirm. If you followed the steps correctly you will be seeing the DF11 faces in your game.
If this doesn't do the trick you can always have a look at our How to install a Facepack