The ultimate shortlist with more than 400 talented players aged under 21! These are the best FM22 Wonderkids!
Are you looking for a giant list with the best young players in Football Manager 2022? Look no further! This list is exactly what you need! This is a downloadable shortlist which you can load directly into FM22! Once it has been loaded in your game you have a list with the 423 best players aged under 21!
What are wonderkids?
Wonderkids are young players in Football Manager with a massive potential. For our list the players must be 21 or younger and have a Potential Ability of at least 150. Some of the players are also shown as wonderkids in FM22, but most of them aren't labeled as a wonderkid but do have the potential to become a very good player. We have made sure that only the best young players in FM22 are on the list.
Important
This list with FM22 Wonderkids has been created by using a large database and loading ALL nations and ALL competitions loaded. The total amount of players on this list could therefore vary depending on the size of your database and number of nations loaded.
Features
423 players on the list
Every player on this list is at most 21-years-old.
Potential is at least -8 or 150+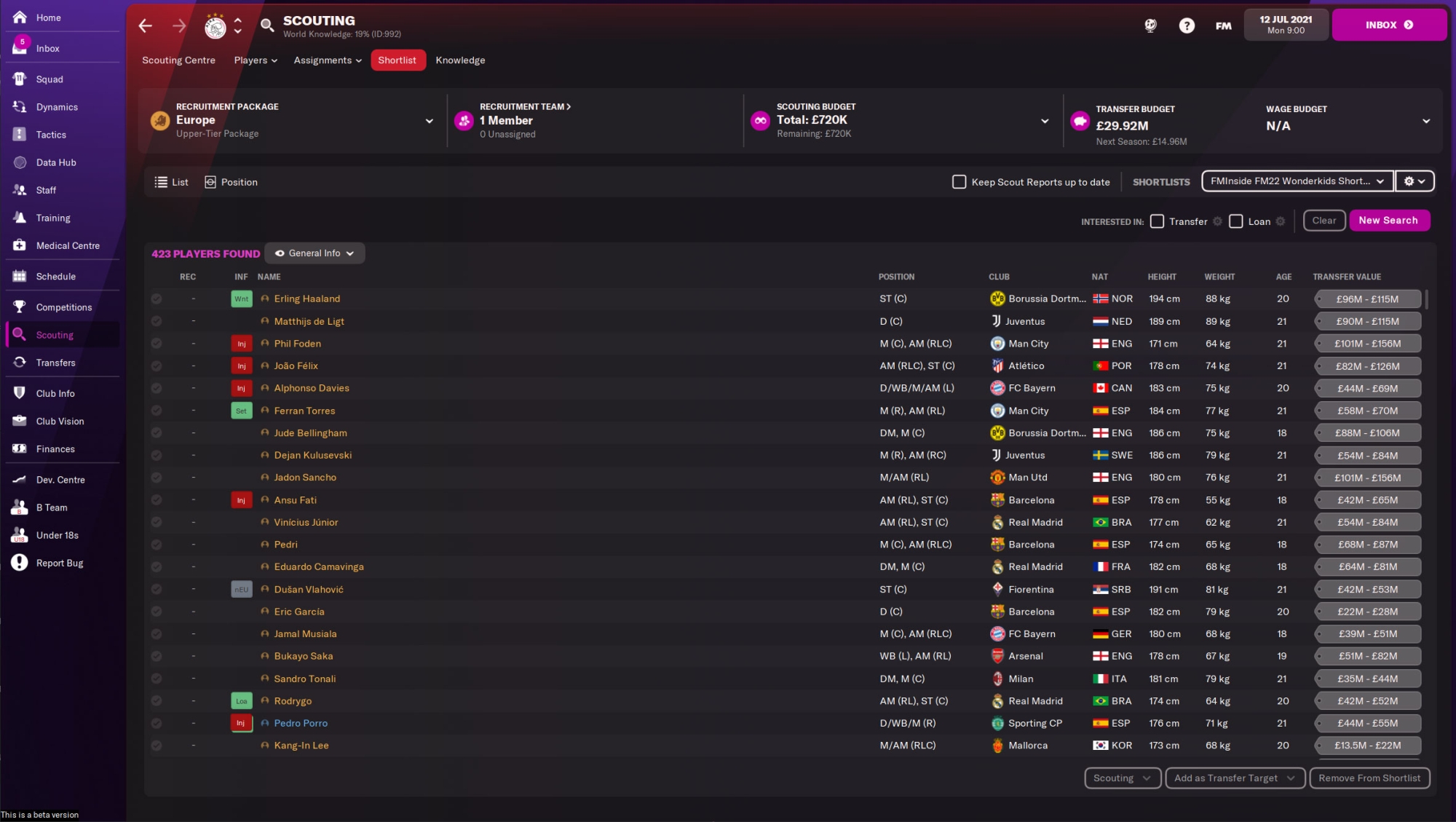 Other FM22 Shortlists
Next to the best Wonderkids, we have also created shortlist for the best Free Agents and best Backroom Staff. Both files are available for download and can be used directly in Football Manager 2022. That way you will never miss out on a backroom staff member or one of the best free agents in the game!
How to install FM22 Best Wonderkids Shortlist
Download the .fmf file
Move the file to \Documents\Sports Interactive\Football Manager 2020\shortlists
Load Football Manager
Go to Scouting > Shortlist
Open the menu under the GEAR icon
Press Load Shortlist
Pick the FMI Wonderkids Shortlist and press Load to finish