After Sports Interactive revealed the first major new features for Football Manager 2020 we will be getting more news on features through the Feature Roulette. This is a Twitter game that is played by Miles Jacobsen, director of SI. In this article we will be keeping track of all the features he reveals through the roulette.
Pre-purchase Football Manager 20 from FMInside

Official SEGA partner, Instant delivery, 10% FMInside discount, get early beta access 2 weeks before the release and get FM20 Touch for free! Buy through FMInside and 2Game to support our community.
September 20 – Newgens
Newgens can now have more dynamic personalities that change over time depending on more circumstances in game. (source)
September 21 – Player modelling
New and better modelling of the players who receive medals for competition wins. (source)
September 21.2 – Rules
The addition of the first year senior player rule for the Portuguese league squad registration. (source)
September 22 – Manager AI
Better modelling of higher profile clubs taking competitions less seriously, so more likely to use squad & youth players for tournaments like the League Cup or Euro Cup (source)
September 23 – Newgens
Better modelling of newgens for Basque region clubs whose players had previously been skewed to the countries they were based in, rather than the region they cover. (source)
September 23 – Various features
Your captain will now suggest a code of conduct when you join a new club 💵
A list of fines for different offences that you get the chance to personalise
You can now find additional talking points for end of season meetings between you and your players 🗣 Giving you more flexibility and clearer communication
Games change quickly 🆚 The responsibilities screen has been re-designed, as part of this you can now ask your assistant to deliver touchline instructions during matches.
An improved unemployed experience 📨 There's more info on available jobs, increased press opportunities and weekly job updates.
In team meetings, you'll now receive advice from your backroom staff as to the best option to select 👂 No more upsetting the room… hopefully
The team selector offers advice on the starting XI, with reasons behind each player ✅ Through this, you have the option to untick any player suggested and stick with your own pick.
September 24 – Attention to detail
The possibility to request the board apply to use the A League FFA Marquee player fund when playing in the A League, up to a maximum of 3m AUD per season for the entire league. (source)
September 25 – Preferences
A revamped preferences section, way less overbearing, with the most popularly changed ones easier to find and all others now searchable to make them easier to find too (when you know what you're looking for, and when you don't, they're all there in sections to see) (source)
September 25 – Backroom staff
Better modelling of staff roles at clubs so that the correct members of backroom staff are assigned to their real life tasks, not just job names. (source).
September 26 – MLS improvements
Huge improvements to the way MLS B teams work- full code refactor, real life affiliations now set, much better AI to decide who should be moved to the B-team, & vice versa, min. salary changes to RES, SMS & SEN. (source).
September 27 – B-teams
With certain B teams, such as those in Portgual where B teams are more reserve teams not separate clubs, you can now request which B team players attend first team training sessions. (source)
September 28 – Bonuses
Get ready for your bonus bill to go up – season bonuses are now given for staff as well as players.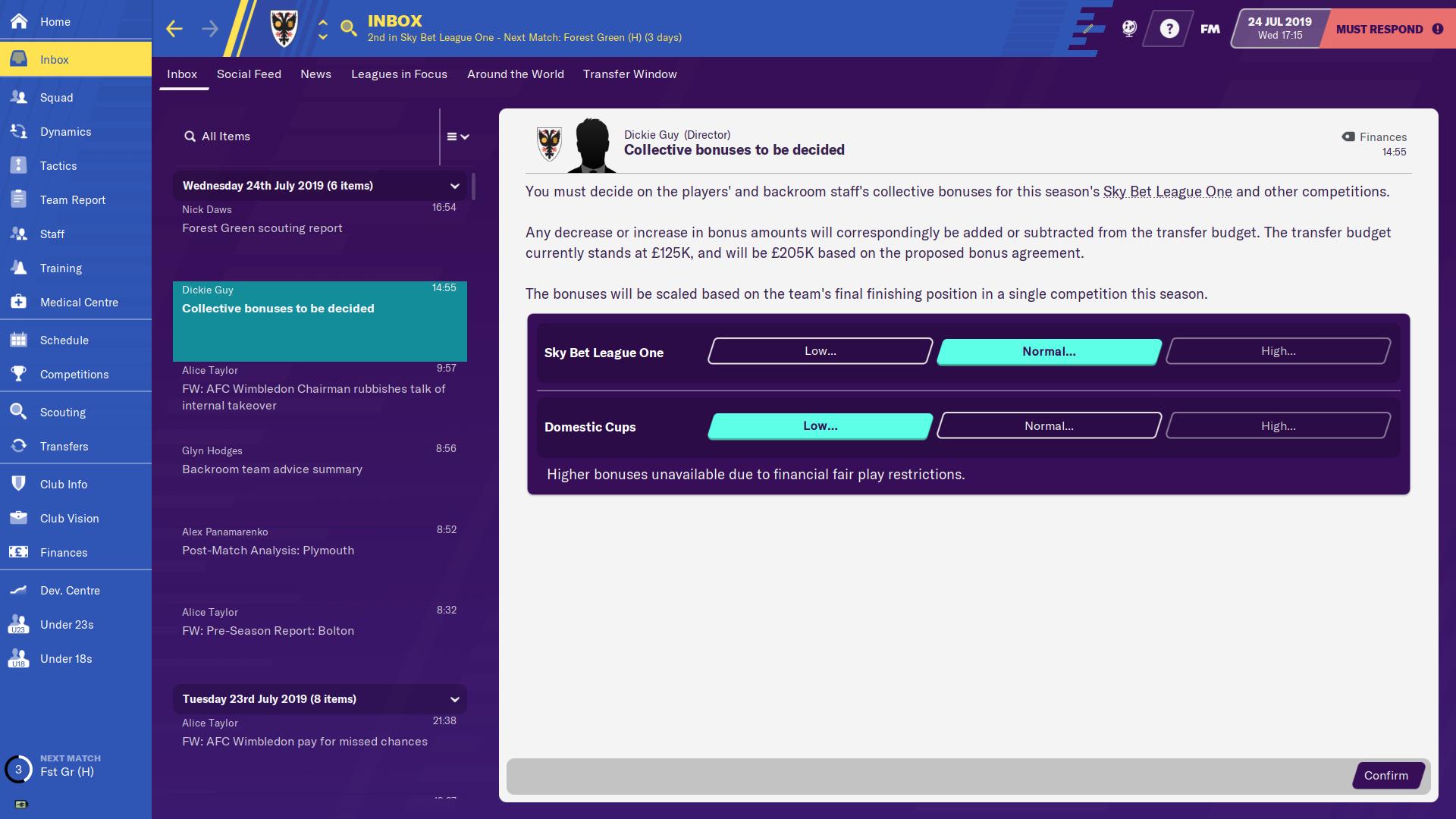 September 29 – Squad registration
New squad registration rules for Norway, so if managing in Norway you now have to set A List & B List squads, with B squad players only allowed to play 3 league matches a season & are youth/amateur players.
September 30 – Player interaction
New conversation options added for when players have to be sold to help with financial fair play.
Board interaction
You now have the option to protest a transfer offer that was accepted by the board over your head 🙅‍♂️
Australian A-League
Introducing two new A-League sides to the game 🤝
Manager interaction
Resigned after a successful spell? 📥
The board will now ask you to reconsider your resignation and discuss ways of moving forward
Manager appearance
When editing your manager's clothing, you can select 'club colours' 👔
Ensuring your touchline style is in line with your team's look, even after you change jobs
Loan options
You now have more options when specifying loan durations 📅
You can set a loan for any number of months. As well as, the end of the season, the end of the following season or until the next transfer window.
Statistics
We've added stats for 'penalties faced' and 'penalties saved' to a goalkeeper's profile 🧤
Let's hope yours isn't as unlucky as this one…
Work Permits
You'll now receive warning from staff if a player has no chance of a contract renewal due to work permit issues 🤬
October 1 – B-teams
As requested so many times on our forums over the years it makes my head hurt, the ability to ask your board to allow you to have a B team when managing in countries where they are allowed.
October 2 – Reserves
You can also now request a reserve team from your board should you not already have one.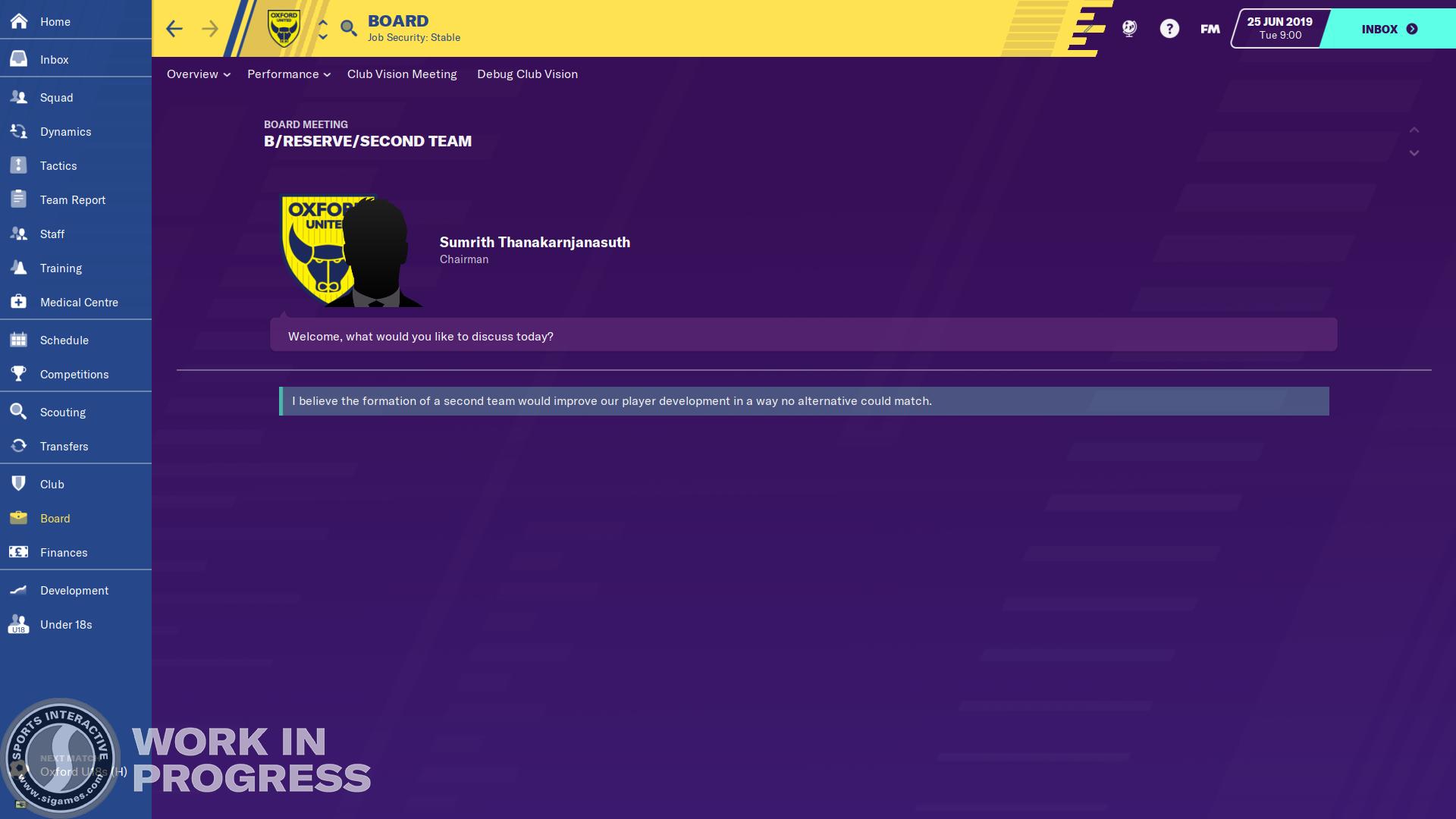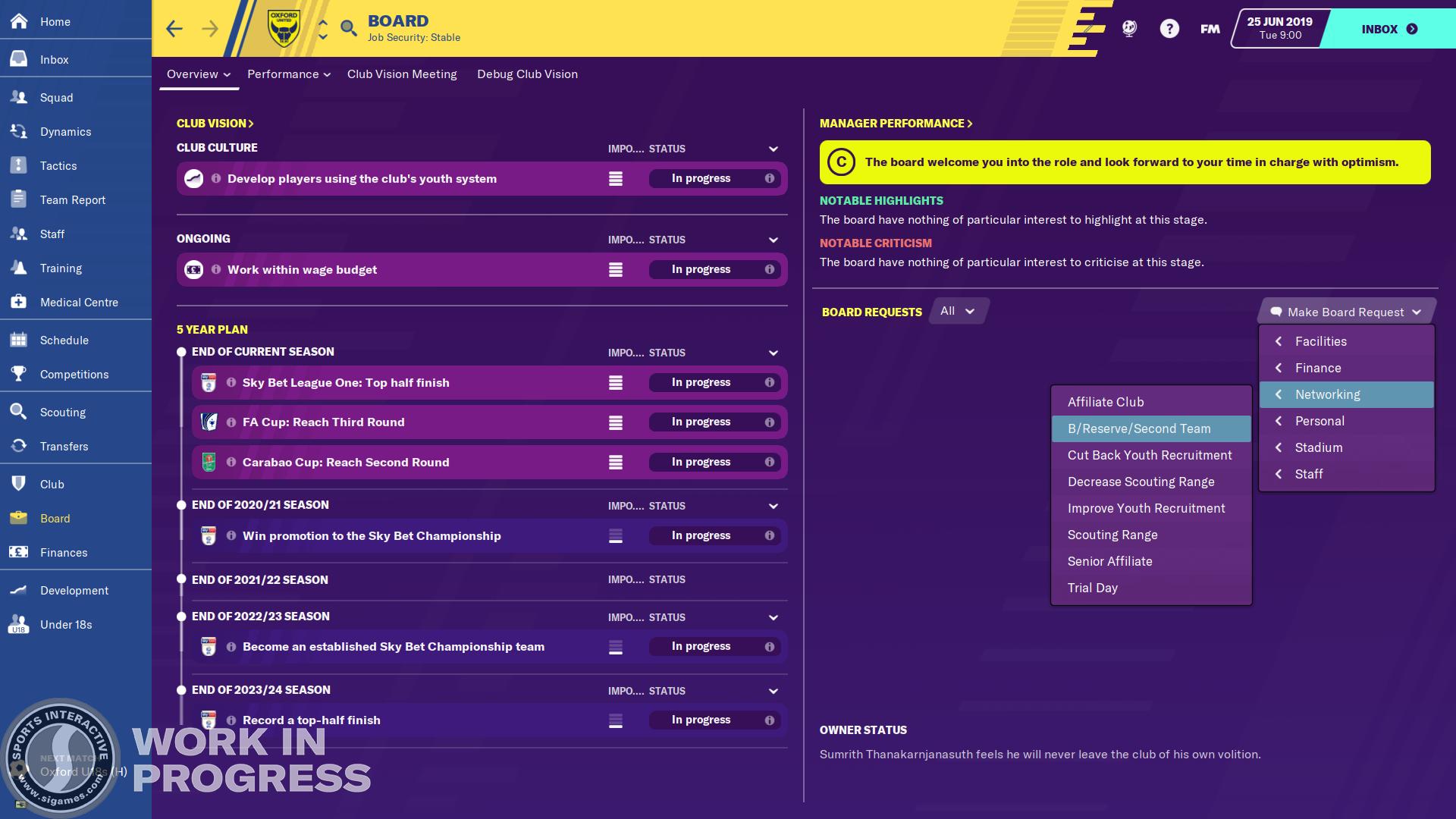 October 3 – Staff development
Better modelling of staff progression, eg young coaches will improve quicker when working with better/more experienced coaches, scouts/analysts will improve quicker by regularly scouting/doing more analysis etc.
October 4 – Staff search
As requested on our forums, a new search filter for which country staff are based in.
Loan options
Also as requested on our forums, you can now negotiate which club will pay the salary of a player being loaned back to a club as part of a transfer.
October 5 – Usability
As requested on our forums, a QoL change – when seeting the transfer type as "sell at any price" it locks in the minimum acceptable value of 0, rather than the price previously set.
October 6 – Players released
When players are released, particularly when at lower levels or youth players released at top levels, they are now much more likely to join clubs local to the club they're released from should they have multiple choices.
October 7 – Language course
As requested on our suggestions forum at http://community.sigames.com, you can now send a player on intensive language course when they are loaned back to their parent club as part of a transfer deal.